Mini guide to Brighton, England
Brighton is one of Britain's youngest cities, both literally – it was awarded city status for the millennium – and figuratively, in its unconventional, creative attitude. Although it's pretty small, there's a huge amount going on, especially on the pier and beach.
The beachside bars and boutique hotels are just one side of Brighton. The clubs are legendary, and the shopping is as diverse as any you'll find in bigger cities. International tastes have taken their place alongside fish and chips and sticks of rock. And nostalgia-seekers needn't worry – the more traditional seaside experience lives on at Brighton Pier.
In this excerpt from Lonely Planet Magazine we highlight the best bits of Brighton - what to see, what to eat, where to stay.
What to see
The Royal Pavilion is the UK's most eccentric royal residence. Its Indian-style domes and minarets look as outlandish today as they did when it was built nearly 200 years ago by John Nash.
Brighton Pier still has all the old-time delights of the English seaside – fairground rides, candy floss and rows of striped deckchairs.
Set in the Royal Pavilion's stable block, the Brighton Museum & Art Gallery has a glittering horde of 20th-century art and design, including a Dalí sofa modelled on Mae West's lips.
The Brighton Sea Life centre is the world's oldest working aquarium. Its 150 marine species include sharks, which you can see from below thanks to a clear-walled underwater tunnel.
Once a fishing village, the maze of narrow streets and alleyways that makes up the Lanes is today home to jewellers, gift shops and boutiques selling everything from antique firearms to designer shoes. The shopping gets even more diverse as you go further along Bond, Gardner, Kensington and Sydney Streets into the North Laine shopping district.
Where to eat
Jamie Oliver's empire has hit Brighton with Jamie's Italian bringing simple rustic dishes at affordable prices. Fresh pasta is made every day – try the sausage pappardelle.
If you have a hankering for Japanese, head to Brighton-born Moshi Moshi and take your pick from the menu or the dishes paraded before you on a conveyor belt, in Tokyo-style surroundings.
Furnished with simple wooden fittings and striking paintings, Terre à Terre offers globe-spanning vegetarian cuisine, full of inventive flavours.
Converted fishermen's cottages with elegant Edwardian touches inside, and dining on the square outside, have made English's an institution for more than 60 years. Come here for all kinds of seafood, from oysters to scampi.
Where to stay
Whitburn Lodge has five rooms in a period terraced townhouse close to the seafront. The rooms feel more boutique than b&b with luxurious linens and individual touches in the furnishings. Minimum two-night stay at weekends.
Once home to the famous Brighton Belle nightclub, the stylishly renovated Oriental now houses rather more restful rooms, decorated in a mix of muted and bright colours, with minimalist contemporary furnishings. Downstairs there's a cosy candlelit bar.
Brighton's inventive reputation is well deserved if Hotel Pelirocco is anything to go by. Its 19 bedrooms are themed around rock and pop subculture, and iconic figures like Muhammad Ali and Diana Dors. There is even a room themed around knickers.
The 80-room myhotel is located close to the North Laine shopping streets and the Royal Pavilion. The style is white, bright and futuristic with sleek curved walls and plasma screens.
Drakes is a study in understated class – a Georgian townhouse with interiors combining crisp lines with a touch of southeast Asia. Feature rooms have giant free-standing tubs set in front of full-length bay windows with stunning sea views. Dining at the restaurant is a must.
When to go
Due to its year-round popularity at weekends, hotel rates can be significantly higher on Fridays and Saturdays, often with a minimum two-night stay. Visit in May for Britain's second biggest arts festival.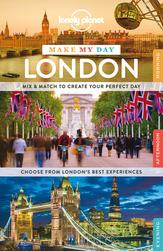 ---------------------------------------------------------------------------------------------------------------------------
Find out more about Brighton in our England travel guide.