London for kids – top 10 adventures
London's offbeat offerings and big-name attractions can be as enjoyable for children as they are for the parents.
Exploring the city as a family can lead to some of the coolest sights and activities around. Even if you don't have kids, you'll want to check these out.
The Millennium Bridge, with St Paul's Cathedral in the background. Image by Donald Judge / CC BY 2.0
1. Dance
Dancing, listening to music and generally whooping it up is a big part of the London scene. And Londoners aren't about to let their children put them off having a boogie. Enter family raves, where hip kids and their parents dance Sunday afternoons away to live DJs. This is where little 'uns and their folks mellow out in chill-out areas, drink juice and get down to some of the city's top DJs. Try Big Fish Little Fish (bigfishlittlefishevents.co.uk).
2. Get drenched
Ever see a fountain and want to dive right in? Somerset House gives you and your kids just such an opportunity. Plunked right in the heart of London, the courtyard of this neo-classical building is filled with fountains that practically ask to be jumped in. Thankfully, you're welcome to go right ahead.
3. Play
Regent's Park is a world unto itself. Once Henry VIII's hunting grounds, kids now enjoy setting off in pursuit of the park's four fabulous playgrounds, summertime entertainers, hedgehogs and herons. Get lost in over 30,000 roses, cross the lake on a pedalo and explore the wildlife garden. In addition to endless amounts of space for running and picnicking, the park is also home to the world-renowned London Zoo.
4. Encounter monsters
While it covers everything from butterflies to the human body, let's face it: most people head to London's Natural History Museum for the dinosaurs. Inside the front door a diplodocus (soon to be replaced by a blue whale) breathes down your neck while a life-like T Rex roars and rears in the Dino Gallery. If you tire of the big beasts, head off to the other exhibitions with an Explorer Backpack designed for young visitors. Picnic on the front lawn or ice skate in winter in the garden, then pick up some very cool souvenirs in the gift shop.
5. Take to the Thames
Check out London's skyline and play I-Spy with some of the city's most famous landmarks as you zip along the Thames on a high-speed catamaran. Used by many Londoners as a commuting option, this ferry offers a fast-paced experience that will thrill your children.
6. Be entranced
Until you experience it, you can't imagine how much you'll enjoy a performance at the tiny, charming Little Angel Theatre in Islington. Marionette puppets spin spellbinding stories that have adults laughing, cheering and guffawing as loudly as the kids. You know you're enjoying it when the five-year-old next to you tells you to keep it down.
7. Get festive
In summer, take a jaunt along the eclectic, festive South Bank. Street performers show off daring acrobatic feats, play bongo drums and guitars or simply pose as still as statues. Settle down on a bench while you sample international snacks and goodies, slurp back ice lollies and watch the Thames slide by.
8. Time travel
Hop on a train or a boat for the 20-minute ride to Greenwich and the Royal Observatory. This is where you can stand with a foot on either side of the Meridian and touch the oldest thing you'll ever set eyes on – a 4.5 billion-year-old meteorite. And when you're done? Roll down the grassy slopes to the National Maritime Museum to explore countless boats or head over to Greenwich Market for brownies, fresh juice and a bit of shopping.
9. Walk on water
Stepping out onto the Millennium Bridge can be a little nerve-wracking if you've a fear of heights or water. But this steel suspension footbridge is a thrill for kids. Nicknamed the Wobbly Bridge after it opened, swayed drastically under pedestrian footfall, and was closed for two years of repairs, it's now more solid. Arching majestically over the Thames from St Paul's Cathedral to the Tate Modern, it offers lots of scenic photo ops and will have your kids jumping up and down to see if they can make it swing.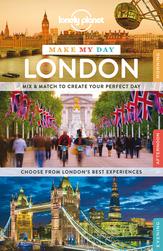 10. Meet the greats
London is a fantastic place to let your children absorb some art. With superb, free galleries, you can take your pick of modern or classics. The National Portrait Gallery is a somewhat unlikely hit with kids. Peek into the country's past through over 1000 paintings, photos, sketches and multimedia exhibits of famous Brits, from prime ministers to models and pop bands.
This article was first published in August 2010 and was updated by Sally Schafer  in March 2015.