Ask the experts: where to go in January
The mind wanders to enticingly unvisited corners of the map as a new year approaches and travel plans begin to take shape.
But where should those looking for a quick getaway go to make the most of January? From Scottish fire festivals to spending quality time with the Sphinx, Lonely Planet's destination experts have the answers.
Oaxaca, Mexico
Vibrant arts, unique cuisine and fascinating indigenous culture make the state of Oaxaca one of Mexico's most popular destinations year-round, but for the best weather (dry and pleasantly hot) January is ideal. Enjoy excellent surfing, spot marine life, and explore beaches and villages along the region's coastline. Party hotspots like Puerto Escondido cater to a young, up-for-it crowd, while quieter options include Mazunte, San Agustinillo and Zipolite.
January is also the perfect time to hit the trails of the lush Sierra Norte. Apart from the walking, the biodiversity - especially the birdlife (over 400 species) - is enough to tempt anyone with even the vaguest interest in nature, and if local human life is on your checklist too, discover more about Zapotec traditions in the Pueblos Mancomunados (Commonwealth of Villages).
Clifton Wilkinson - Destination Editor for California and Mexico. 
Bale Mountains National Park, Ethiopia
Few travellers have even heard of Bale Mountains National Park or its enigmatic cast of endemic species; fewer still have marvelled at its thick Harenna cloud forest, hiked its volcanic peaks or stalked Simien wolves on its Sanetti Plateau.
With warm daytime temperatures, blue skies and visibility at its best, January is a perfect month to explore this Abyssinian abyss. And with the recent opening of Bale Mountains Lodge (www.balemountainlodge.com), the first top-end accommodation in the park, it may just be the perfect year too. Besides offering a refuge from the crisp evening chill, the lodge also allows you to socialise with scientists based there to study newly discovered species.
Matt Phillips - Destination Editor for sub-Saharan Africa. Follow him on Twitter @Go2MattPhillips.
Harbin, China
For a quirky, far-flung winter escape, head to Harbin, China, where the annual Ice and Snow Sculpture Festival runs throughout January. One of the largest of its kind, the festival sees some of the world's most iconic landmarks - from Notre Dame to the Great Wall - rendered in icy form and lit up with coloured lights. The Songhua River, which runs through town, becomes a natural skating rink in winter, and if you fancy a bit of powder, Yabuli Ski Resort is a few hours' drive away.
Getting to Harbin has never been easier thanks to a newly launched high-speed rail line, which cuts the trip from Shanghai to just 13 hours. Trains from Beijing take around eight hours. The festival opens on 5 January.
Megan Eaves - Destination Editor for North and Central Asia. Follow her on Twitter @megoizzy.
Lerwick, Shetland Islands, Scotland
Vikings, boats, booze and Europe's biggest fire festival on Scotland's northernmost islands? It sounds like a dangerous mix. But the Shetland Islands' Up Helly Aa has had only three breaks in its 150-year history – for the death of Queen Victoria and the two World Wars.
The islands' capital Lerwick hosts the biggest event: a thousand-strong parade – led by weapon-toting Vikings – and torchlit processions that culminate in traditional songs and the ceremonial burning of a great longship. Local halls then become party venues, and everyone heads inside to drink and dance away the long winter night. The festival generally takes place on the last Tuesday in January (2014's event is on 28 January). Daytime activities are free, but you'll need tickets for the parties after dark – visit www.uphellyaa.org for more information.
James Smart - Destination Editor for Britain, Ireland and Iceland. Follow him on Twitter @smartbadger.
Belgrade, Serbia
Serbia's capital is buzzing year-round but a January visit, despite the cold, will be a heartwarming experience, and the newly rebranded Air Serbia (www.airserbia.com) is offering tempting promotional fares.
Orthodox Christmas falls on 7 January. Take in the liturgy in the St Sava Temple – arguably the world's largest and still a work in progress – and share the super-sized Christmas bread with Belgraders on Terazije Square. Good luck finding the gold coin!
Exuberant festivities herald the Serbian New Year (13 January).  Choose a tavern in the bohemian 19th-century Skadarlija quarter, dig into hearty local cuisine and let loose with live Balkan music. Finally, if you're brave, plunge into Ada Ciganlija's freezing waters to race for the Epiphany cross on 19 January. Warm up later with shots of the ultimate firewater, rakija, even if you don't win a year's worth of blessings.
Brana Vladisavljevic - Destination Editor for Southeastern and Eastern Europe. Follow her on Twitter @branavl.
Tromsø, Norway
The price of a beer in Tromsø may be as eye-watering as the bracing sea breeze, but the range of outdoor activities and a packed cultural calendar in January make it the perfect place for winter magic. Enjoy outdoor cinema at its chilliest during the Tromsø International Film Festival or, for a warmer cultural experience, take your pick from over 40 performances at the Northern Lights Festival, a nine-day celebration of dance, jazz, and contemporary and classical music.
Speaking of the Northern Lights, NASA says we're experiencing a 'double solar maximum'. Translation: whether you head off into the Nordic wilderness by snowshoe, snowmobile or husky-driven sled, you have the best chance in 11 years of witnessing this spectacular light show.
Gemma Graham - Destination Editor for northern Europe. Follow her on Twitter @gglpde.
Park City and the Wasatch Mountains, Utah, USA
The reason Utah was chosen to host the Winter Olympics in 2002? Steep, steep slopes and deep, deep snow. The low-density, low-moisture white stuff and thousands of acres of high-altitude terrain make this one of the best areas for powder in the world, and, by January, the season is in full swing.
Park City is home to the US ski team and resorts including the Utah Olympic Park, where you can tour the ski-jumping facilities and maybe, if you're lucky, watch the pros practise. To mix some culture with your carving and cruising, late January sees Park City fill with movie stars, film buffs, crew and hangers-on as the town hosts the annual Sundance Film Festival (www.sundance.org/festival). This is one of the largest independent film festivals in the country and tickets are in demand, but, with a little planning and grit, obtainable.
Dora Whitaker - Destination Editor for eastern and mid-USA. Follow her on Twitter @dorawhit.
London to Barcelona by train
Book a ticket for January and be among the first to try the speedy new rail link from London to Barcelona, which shaves 3½ hours off the total journey time. That means you can leave London St Pancras at breakfast, transfer in Paris and be in Barcelona with sightseeing time to spare before dinner.
Catch the traditional Three Kings Parade on 5 January, or simply take advantage of the tourist lull and enjoy the Sagrada Familia in relative peace and quiet. And don't forget the journey itself - the double deck TGV train runs through the beautiful French Rhône countryside, while seats are roomy and comfortable. Perfect for some post-Christmas restoration. To book tickets visit www.eurostar.com.
Jo Cooke - Destination Editor for Iberian Europe and Turkey. Follow her on Twitter @JoannaCooke1.
The Giza Plateau, Egypt
Chances to see the world's great wonders in peace don't come along very often. But if you take a trip to Egypt this January, you could find yourself spending one-on-one time with The Great Sphinx and the Pyramids of Giza.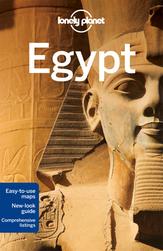 The UK's Foreign and Commonwealth Office has lifted its travel warning against this part of the country, but after such a turbulent year travellers have been slow to return. To entice them back, tour operators are slashing prices and hotels are offering fiercely competitive rates. And if that's not incentive enough, seeing these extraordinary, ancient monuments at such a pivotal point in Egypt's history is bound to lend the experience special significance. Cheap, crowd-free, and poignant? That's a once-in-many-millennia opportunity.
Helen Elfer - Destination Editor for Middle East and North Africa. Follow her on Twitter @helen_elfer.