Revolutionary roll call: Cuba's fighting heroes
Cuba churns out revolutionaries like other countries produce movie stars and, with outside influence from at least three (neo)colonial powers over the last 100 years, their heroics have usually been ecstatically welcomed. Recreated in bronze or emblazoned on hulking billboards, the icons live on. Roll up for our revolutionary roll call…
The legacy of José Martí - El Maestro (The Master) - can be seen all over Cuba. Image by Javier Ignacio Acuña Ditzel / CC BY 2.0
Che Guevara
The face that launched a million T-shirts is still omnipresent in Cuba where government propaganda has elevated him into a pantheon of socialist 'saints.' Che pilgrims head straight to Santa Clara, where monuments, museums and the great guerrillero's hallowed remains pay homage to the legend.
Antonio Maceo
Cuba's Bronze Titan led the island's brave Mambí fighters in both Independence Wars before being killed by the Spanish in a skirmish near Havana in 1896. A little-visited open-air mausoleum and historical exhibit on a hilltop at El Cacahual marks the spot where he fell.
José Martí
Known simply as El Maestro (The Master) to most Cubans, Martí's legacy can be seen all over the island. One of the most poignant monuments is his magnificent mausoleum in the Cementerio de Santa Ifigenia in Santiago de Cuba. Erected in 1951 during the Batista era, the imposing hexagonal structure is positioned so that Martí's wooden casket (draped solemnly in a Cuban flag) receives daily shafts of sunlight. This is in response to a comment Martí made in one of his poems that he would like to die not as a traitor in darkness, but with his visage facing the sun. A round-the-clock guard of the mausoleum is changed, amid much pomp and ceremony, every 30 minutes.
Camilo Cienfuegos
The second most popular man in Cuba (after Fidel) at the time of the 1959 Revolution, ruggedly handsome Camilo Cienfuegos has since been overshadowed by the more marketable Che. But in Cuba his contribution to the defeat of Batista's army in the town of Yaguajay has never been forgotten. The Museo Nacional Camilo Cienfuegos is eerily reminiscent of the Che Guevara monument in Santa Clara, and stands directly below a modernist plaza embellished with a 5m-high statue of El Señor de la Vanguardia (The Man at the Vanguard).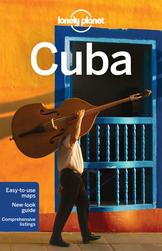 Hatuey
The so-called Rebels' Rebel was an uppity Indian cacique (chief ) who led Cuba's first anticolonial struggle against the Spanish in 1512. Captured and burned at the stake after refusing to convert to Catholicism, his feisty independent spirit is remembered in the main square in Baracoa, in the form of a bust.
Keen to delve further into Cuba's past? Check out Lonely Planet's latest guide to Cuba.