The other side of Varadero: leave the resorts behind
A 20km peninsula of white-gold sand flanked by fifty plus all-inclusive hotels: it's no wonder the foreign tourists flocking to Varadero, the largest resort in Cuba (and one of the largest in the entire Caribbean), have passed the one million mark.
But there are few places on the planet where the contrasts between the resort and the land just beyond the gates are so poignant. From the gleaming, modern US$200-a-night mega-hotels, neat stretches of beach and manicured avenues you cross into a world very much its antithesis. A world of dilapidated colonial architecture and honking 1950s Cadillacs negotiating potholed roads, fruit vendors, horse-drawn carriages and cyclists inexplicably balancing everything from sugar cane to antique furniture on their shoulders as they pedal their decrepit machines – and a world where the characters in the cast, the Cubans themselves, earn an average US$15 a month.
Even all-inclusive resort lovers shouldn't pass over the chance to venture outside Varadero. It's not merely that colourful, magical mayhemic dose of authenticity you'll be missing out on. For all of Varadero's tourist brochure charms, there is better diving, better attractions and (many would say) better places to stay just outside the peninsula's tourist-gift-wrapped confines - and all close enough to return to those resort comforts come nightfall, should you so desire.
If you thought Varadero's waters resembled an azure paradise, rethink. Just 15km from Varadero on the road to Matanzas, Playa Coral has a coral and sand beach with sublime reefs just meters offshore (Varadero has none close enough to swim to). Water visibility often exceeds 25m, so prepare for great glimpses of some of the fifty species of coral and hundred species of fish thriving here. Snorkelling (CUC$10 per 45 minutes) is best before 10am when tour groups start arriving and the wind picks up. Diving is CUC$25 per immersion. All equipment is available for rent.
On the turn-off to the airport just 20km from Varadero a path through wooded scrubland suddenly plummets into an intricate system of caverns (57 all-told) including the set-piece: Cueva Saturno, a cenote or underground natural swimming hole. The water is a lurid turquoise and you can swim or snorkel amongst stalagmites and stalactites, many of which have fused into palatial columns surpassing even the faux colonial pillars of the finest Varadero hotel lobby in majesty.  Admission is CUC$5, and a man near the entrance usually serves up roast pig.
Matanzas – the Athens of Cuba
If Varadero is the big-buck tourism business of Cuba's present, then Matanzas is the glamorous cultural beacon of Cuba's past. The glory days faded in the early twentieth century, but in a beauty contest Matanzas' battered but alluring colonial architecture steals the show from Varadero's generally unimaginative hotel designs. Feast your eyes on the 1863-built Teatro Sauto, a grandiose theatre with its lobby and ceiling graced by depictions of the Greek goddesses and muses, which hosted the likes of Russian dancer Anna Pavlova in its day. Browse the delightfully eccentric Museo Farmaceútico, a trapped-in-time 19th century family pharmacy preserved immaculately with a hotchpotch of original bottles and medical implements displayed. Or hike 1.5km up from central Matanzas to 19th-century Iglesia de Monserrate, poignantly crowning a hill from which there are incredible views of the city and the dramatic Valle de Yumurí.
Bay of Matanzas. Photo by Luke Waterson.
Bed down in a casa particular
Contrary to popular belief, staying in a hotel in Cuba doesn't  guarantee a good room and certainly doesn't guarantee a high standard of food. Varadero, remember, is sold as the cheap alternative to Cancún. Most travellers who have journeyed outside Cuba's all-inclusives generally reckon the new breed of highly-professional, top-quality casas particulares (privately-owned bed and breakfasts) springing up country-wide to be vastly superior to hotels as accommodation options. And Matanzas, it just so happens, has some of western Cuba's very best casas particulares making the city a great place to experience living with a family in the real Cuba for the first time. Pick of the bunch has to be the vast Hostal Azul where four immaculate courtyard-facing rooms dwarf those in many of Varadero's hotels and where the home cooking is infinitely fresher and more creative.
Spacious room at Hostal Azul, Matanzas. Photo by Luke Waterson.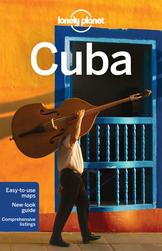 San Miguel de los Baños
Could this be a glimpse of Varadero's destiny? Back in the first half of the 20th century this old spa town was a flourishing resort that eclipsed Varadero in popularity. Visitors were attracted by its curative waters and glamorous neoclassic villas and hotels shot up, including the Gran Hotel y Balneario which was a replica of the Grand Casino in Monte Carlo. But pollution from a sugar mill contaminated the water supply in the 1950s and the town was abandoned. Now you can wander around the elegant ruined buildings, some of which people have moved back into. Take a stroll down to the still-standing Gran Hotel and its Romanesque bathhouses (you may have to ingratiate the guard and bathing isn't recommended) or up to the verdant viewpoint above town, the Loma del Jacán. 40km from Varadero and voilà: a resort where you are the only tourist around.
San Miguel de los Baños, Gran Hotel. Photo by Luke Waterson.