Five days in Croatia: day four
Gorgeous Hvar Island is Croatia's sunniest place, enjoying around 2,724 hours of sun per year. If shade is your thing, escape the mid-day heat by exploring Hvar's weave-world of bijou jewellers, galleries, aromatic restaurants and clothing boutiques. If you're a sun-worshipper like me, a visit to the Pakleni islands is a must.
Armed with a towel and book, I climb aboard one of the little ferries that run with metronomic regularity (8am–6pm) from outside the old Arsenal to the nearby Pakleni islands.
Nudism has been a popular pastime here for the last 90 years. The closest nudie idylls are Jerolim and Stipanska, both thickly wooded in fragrant Aleppo pine, which allows for maximum privacy. As we moor up at the dock, pink and brown bodies turn in the sun like rockbound iguanas. Stipanska is home to Carpe Diem Bar (sister to the one in Hvar Town) - so swanky it could have leapt from the pages of Wallpaper magazine. But instead of sampling exotic cocktails and chilled-out tunes I elect to explore the island in search of the perfect beach – and soon regret it.
'Listen to the locals' is a truism we should all observe, but I'm lost without even a single naturist to point me in the right direction. An hour later, sweaty and triumphant, I spot the rocky outcrop of Stipanska beach and nearly jump for joy. Civilization! Food! Steam is pouring from the restaurants' open kitchens and the mouth-watering aroma of fried octopus is filling the air.
I take a refreshing glass of Posip, a fresh white wine grown on Hvar island. Wine drinking in this region goes back to pre-Roman days and 19th-century Hvar emigres are thought to be the founders of wine-making in California's Napa Valley.
Stipanska beach is sheltered and gradual, its waters waxing turquoise to azure. For an even choicer spot to worship Apollo and Poseidon, walk the gravel path through a hollow of pines from Stipanska bay to Mlini beach. The beach here gently shelves into water that looks as if it's been airbrushed by an ad agency.
When evening falls, I settle in for dinner at homely Konoba Trattoria (+385 (9)1 253 7441). Tucked away up the steep stairway above St Stephen's cathedral, this authentic little eatery, with its traditionally attired staff, serves marinated meats and fresh Dalmatian-style seafood.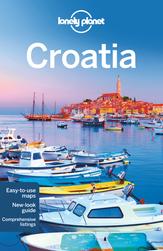 Tomorrow it's more beachcombing and a trip to Sensori Spa, one of the most talked-about massage therapies in the country.
Go back in time! In Day three, Richard kayaks between the Pakleni islands. Now skip to Day five - mmm, swanky spa...