Costa Rica: coast to coast
Despite its diminutive size Costa Rica is a study in contrasts and contradictions. The diversity of its ecosystems, crammed into a relatively small area, makes it a rewarding place to explore.
On one coast it fronts scenic Pacific shores, while only 119km away lies the Caribbean coast, with a range of bubbling volcanoes and tumbling streams in between. The country's mountainous spine is a land of chilled peaks clad in impenetrable cloud forests, while in the midst of the highlands is the Central Valley, a fertile plain and dense population centre that contains four of the country's five largest cities.
And then there's the wildlife... Nowhere else in the world are so many types of habitats squeezed into such a tiny area. In terms of number of species per 10,000 sq km, Costa Rica tops the list of countries at 615 species, compared to the United States with a mere 104.
The large number of species in Costa Rica is due to the relatively recent appearance of the country. Roughly three million years ago Costa Rica rose from the ocean, and formed a land bridge between North and South America.
As species from these two vast biological provinces started to mingle, the number of species essentially 'doubled' in the area where Costa Rica now sits. In more recent decades, the establishment of national parks and private reserves has helped to protect this biodiversity.
For a different perspective on travel in Costa Rica, ditch the bus and rent a car. Image by Ryan / CC BY 2.0
Driving the open road
Renting a car is a wonderful way of travelling from coast to coast, especially if your time in the country is limited. The freedom and flexibility of having your own wheels allows you to break free from the shackles of infrequent public transportation.
The roads vary considerably, from double-lane paved highways to single-track dirt-and-mud affairs. Add to the mix rocky landslides, sudden flooding, patches of fog and herds of cattle, any and all of which necessitate the importance of defensive driving.
But if you came to Costa Rica looking for adventure, fear not as the open road never fails to disappoint. Narrow, winding mountain passes climb high into the clouds, while backcountry jungle tracks test the limits of your navigation skills.
Classic itineraries
For days on end of sun, surf and sand, cruise along the Central Pacific Coast for back-to-back beach towns dedicated to the pursuit of hedonism. Further south in the Osa Peninsula, you'll find Costa Rica's most pristine and rugged wilderness.
Heading east into the highlands provides opportunities to scale soaring mountains, trek through humid rainforests and soak your cares away in remote hot springs. For an urban dash of humanity, the cities of the Central Valley are rich cultural hotspots.
Spanish gives way to English, and Latin beats change to Caribbean rhythms as you reach the other side of Costa Rica. While slow and steady travel has its merits, devoted road warriors can swim in both the Pacific and the Caribbean in a single day.
Practicalities
International flights arrive at Aeropuerto Internacional Juan Santamaría, just northwest of San José, in the city of Alajuela. Aeropuerto Internacional Daniel Oduber Quirós in Liberia also receives flights from the USA and Canada.
Car-rental agencies can be found in San José and Liberia, in addition to popular tourist destinations on the Pacific Coast. Invest in a 4WD with high clearance, especially in the rainy season when driving through rivers is a matter of course. Always ask about road conditions before setting out, especially in the rainy season; a number of roads become impassable in the rainy season.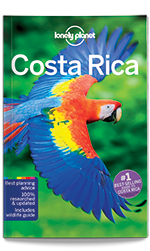 Your driver's licence from home is normally accepted for up to 90 days. Many places will also accept an International Driving Permit (IDP), issued by the automobile association in your country of origin. Gasoline (petrol) and diesel are widely available, and 24-hour service stations dot the entire stretch of the Interamericana.
Read more about Costa Rica with our articles on this fascinating place.