Get your kicks in Costa Rica
Adrenaline junkies of the world unite – Costa Rica isn't just about quiet walks in the park. On the contrary, this action-packed country is full of opportunities for extreme sports, both on land and in the water. Whether you find yourself zipping across canopies or rafting rivers, Costa Rica is all about getting your kicks.
High-five! Costa Rica is crammed with opportunities for extreme adventures. Image by arvind grover / CC BY-SA 2.0
Canopy Tours
The best way to take in the lofty heights of the canopy is put on a harness, attach yourself to a zip line and soar through the tree tops on a canopy tour in the Monteverde area. Although it's unlikely you'll spot much wildlife at these speeds, we can guarantee you'll get a whole new perspective on Mother Nature.
River Kayaking
River-running becomes all the more intense when you push your limits by maneuvering in and out of the rapids in a small kayak. One of Costa Rica's most legendary launches for river kayaking is the small town of Puerto Viejo de Sarapiquí in the northern lowlands near the Nicaraguan border.
Surfing the Caribbean
One of Costa Rica's most famous surf destinations is Salsa Brava, a fierce reef break that cuts close to shore in Puerto Viejo de Talamanca. Although you're going to need some serious skills here to survive with your board (and bones) intact, a successful ride will win you some well-earned bragging rights.
White-Water Rafting
Costa Rica is regarded as one of the world's top white-water rafting spots. There's no better place to tackle mighty jungle rivers than Turrialba. Depending on your skills, you can choose from numerous entry points on Ríos Reventazón and Pacuare.
Surfing the Pacific
Another one of Costa Rica's most famous surf destinations is Witch's Rock, a remote break that can only be accessed by boat from Parque Nacional Santa Rosa. Regarded as something of a surf mecca among the international community, this world-class break will seriously test your surfing mettle.
Scuba Diving
Costa Rica may have some stunning wildlife on land, but its underwater world is impressive in its own right. One of the best ways to get a fish's-eye view is to strap on a tank and check out some of the famous dive spots scattered around the northern section of the Nicoya peninsula.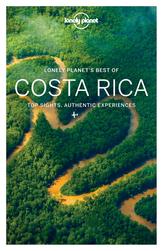 Tip:
Extreme sports in Costa Rica come at a price, so you're going to need a bit of cash in your wallet if you want your fix. Fortunately however, there is no shortage of cheap hostels and budget hotels around, which means that shoestringers can conserve their cash for the occasional splurge.
This article was updated in Jan 2012.