It's hard to remember, on those cold days when you pile on your heavy coat and scarf, that there are places on the planet where the sun rarely stops shining. The Colombian city of Cartagena has skies so blue and cloudless that they look permanently polarised.  It's a fine spot for a winter-dodging getaway, and it may surprise you to learn it's closer to New York City than San Francisco by a few hundred miles.
But it's not just the weather – Cartagena's colourful colonial history and dramatic setting in South America on the shores of the Caribbean have started to attract savvy international travellers, but for now, it's still just on the right side of undiscovered.  You'll still find a breezy, laidback ambience; inside the old walled city, tourists and locals alike explore historic buildings at a gentle flip-flopped pace.
Yet despite the city's colonial roots, this is no museum, either – it's a living, breathing place. Seafood restaurants where the dress code is beachwear? Check. Cool DJ bars atop ancient fortresses? Check. Authentic salsa joints, with bands playing like they won't get paid unless the crowd dances?  Check. From its history, to its food and nightlife, to its beaches, Cartagena's got it all.
Love at first site
Step through La Puerta Del Reloj, a clock tower passageway through Las Murallas, the 400-year stone walls that surround the city, and you arrive at Cartagena's historic heart, the Old Town. The narrow and winding streets, with their bougainvillea-strewn, pastel-painted balconies, create a glorious sense of suspended time. Grab a cooling agua de coco (coconut water) from any one of a hundred strolling vendors if the heat gets too much, and simply stroll the shaded narrow streets.
Cartagena was founded in 1533 by Spanish explorer and gold plunderer Pedro De Heredia, and the town soon became the storehouse for all the gold and other resources the conquerors stole from the continent. This made it an attractive prospect for pirates, Buccaneers and other thieves, and it was to fend off their advances that the town's impressive fortified walls were built in the 17th century. In this vein, the impressive Castillo San Felipe De Barajas overlooks the city and is considered by some to be the most impregnable fort the Spanish ever built.
In Plaza De Los Coches, you can take a horse-and-carriage sightseeing tour to delve into the history of this triangular plaza lined with old balconied houses and colonial arches. Just around the corner, you'll find the 17th century Iglesia de San Pedro Claver, one of the city's many monumental, ornately baroque churches. Church visits anywhere in town are a must – especially at sundown when the doors open to the faithful for an evening service or wedding.
Plaza de Bolivar is a stunningly beautiful and compact square ringed with trees and two of the town's best museums and colonial houses. Here you'll find The Gold Museum, displaying hundreds of pre-Colombian artefacts, while just across the plaza there's the Palacio de la Inquisición, a good example of late colonial architecture that today operates as a museum displaying Inquisitors' instruments of torture, pre-Columbian pottery and historical objects from both colonial and independence times.
Nearby Plaza Santo Domingo is bordered by great restaurants and bars and a Botero sculpture, but for a smaller, quieter and less touristy option, check out Parque Fernadez De Madrid.
Food and nightlife
If you really want to escape the pastel-toned perfection and see how the locals live, swap your sandals for something sturdier and take a 10-minute taxi ride to Mercado Bazurto. Here, you'll find a chaotic local market with blaring music, raucous sales patter, charcoal-makers seemingly teleported in from the Middle Ages, and street food.
For night-time action, Café Havana mixes the meanest mojitos in town, but the prize for best location goes to Café Del Mar, where you'll want to dress to impress as you sip your sundown cocktail atop the city walls, with Caribbean views and breezes. Meanwhile, salsa bar Donde Fidel has some of the best seats in town right on Portal De Los Dulces, a plaza overlooking a scene straight out of Gabriel Garcia Marquez's romantic novel, Love in the Time of Cholera.  Here, locals sell grated coconut treats baked with panela, or baked raw cane sugar. Marquez fans can also take a literary tour of the town.
Blissed-out beaches
For beaches, the closest options are at Bocagrande, a mini Miami just a few kilometres southwest of the city centre. A better choice is Playa Blanca or  Isla Barú, and while both are well-frequented tourist attractions, they offer crystalline waters and white sand.
If you have some time – plan on an excursion. You're just four hours away from sister city Santa Marta and the world-class beaches of Tayrona National Park, where the jungle edges up to a sea that's bordered by the snow-capped Sierra Nevada de Santa Marta.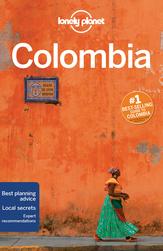 Now, where's your passport?
Mike Power traveled to Cartagena with support from jetBlue. Lonely Planet contributors do not accept freebies in exchange for positive coverage.