Lonely Planet: Roads Less Travelled Colombia itinerary
Having weathered years of civil strife and daunting press, Colombia has only recently reappeared on the traveler's radar. Portions of the Amazon and the south remain dangerous, but large swaths of the interior and Caribbean coast are once again ripe for exploration, now that the main roads are generally secure.
Medellín's darkest days are past, and Escobar's former stomping ground is awakening from its cocaine coma, thanks partly to cash infusions from the federal and foreign governments. Experience the city's artistic and cultural rebirth, not just downtown but in the hillside barrios formerly thick with cartel assassins. While you're here, try your hand at tejo, the national sport. This heady mix of lawn-bowling, beer and explosives is a typically combustible Colombian pastime.
Head east from Antioquia past Bucaramanga and into the Cordillera Oriental, where the Andes rise dramatically and the roads wind over precipitous switchback passes through time-capsule pueblos of panchos and fedoras. Conquer the lofty peaks of El Cocuy National Park, home to fragile ecosystems of frailejones (tall, daisy-like plants), thermal pools and morraines clinging below some of South America's largest and most threatened glaciers. Wind west through yet more lazy pueblos to Barichara, a tranquil oasis of white-washed colonial architecture and giant fried ants (hormigas culonas). Trek on to San Gil, adventure capital of Santander, and challenge your friends to torrentismo, a rapid rappel down 80-meter waterfall Juan Curi.
Now ride north, past Bucaramanga once more, to the historic llanos (plains) that are home to the cowboy culture of Valledupar. Book an agriturismo, help milk the cows, rope the herd, breathe in the big sky; or head into any of the surrounding towns for a barside Vallenato jam. Listening to this frenetic fusion of accordion, drum and guacharaca (scratching stick), you'll be convinced its manic rhythms are fueled by pure coca. Forge on to the Sierra Nevada de Santa Marta and enter Pueblo Bello, border town of the Arhuac, one of the most traditional and distinctive of Colombia's 83 indigenous tribes. The Arhuac live in a constant struggle to maintain their culture against colonial, Colombian, leftist, and paramilitary aggressions.
Follow the scent of salt water north, encountering the humid Caribbean at Santa Marta, where South American hero Simón Bolívar met his maker. Proceed east to the magnificent Parque Nacional Tayrona, festooned with artistic rock formations and idyllic cabanas by the sea. Hire a boat to sail you west through the inland waterway of Ciénaga to the stilt villages of Buena Vista and Nueva Venecia, one-of-a-kind fishing pueblos erected on poles above the undulating waters.
End your journey with a bang in the industrial port town of Barranquilla during Carnaval, when this usually gritty burg explodes in a five-day bender, a fertile fiesta of Spanish, African and indigenous celebration second in size only to Rio's. It's the perfect storm of color, culture and cacophony. And a fitting dessert to this Bacchanalian feast? Why, a detox dip in nearby Totumu, of course, where you'll coat yourself in miraculous, invigorating sludge from a volcanic crater oozing with mud.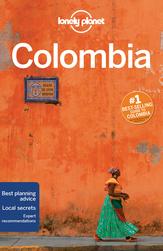 Dominic Bonuccelli travelled to Colombia on assignment for Lonely Planet. You can follow his adventures on Lonely Planet: Roads Less Travelled, screening internationally on National Geographic.