Generation 2: Wonder
Outdoor Activities, Medellín - exact location to be confirmed near to the date to null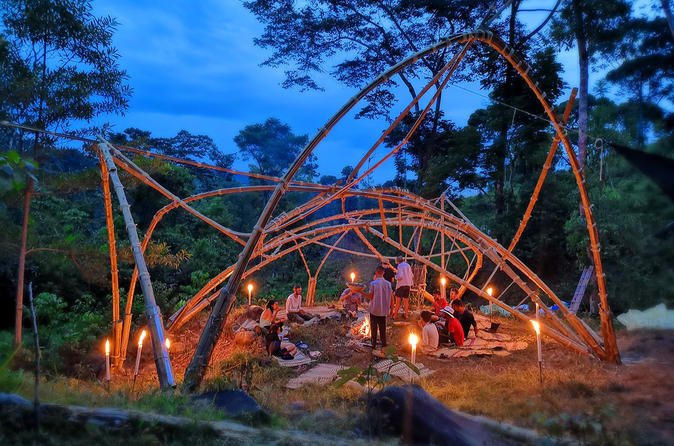 Image by Viator
Information from Viator
Tour description
Creating the next space at Soná, an 80 hectare of rainforest near San Carlos, where a group of like-minded individuals build with bamboo from the space of dwelling in nature. This means dwelling fully in nature - including bathing in crystal clear stream water, gathering in a circle of trees, sleeping in tree tents - being almost entirely outdoors. Each Generation explores how life can be an offering in the most fundamental ways, bringing reverence to the everyday. Participants add to the landscape and experiences at Soná, leaving their traces outwardly with bamboo creations and inwardly through personal transformation and connection.
Being immersed in tropical rainforest while building with bamboo and re-imagining the act of dwelling, involving: * bamboo craft at a variety of scales; * collaborative creation; * connecting with inner rhythms of the self and the world; * waking up at sunset from a tree tent; * feeling revitalised with crystal clear stream waters and plant based nourishment; * gathering for evening candle-lit circles and day-time movement practices; * taking wild walks into the rainforest; * group discussions to do with observations, insights, readings; * cultivation of a sense of wonder ...
Dates:25.07.19 - 16.08.19 will be spent in the rainforest. Be sure to allow at least 2 days before and 1 day after for transport from Medellín and acclimatisation.A bus will bring you to the rainforest near the town of San Carlos, where a 21 day experience of living in nature and building with bamboo will begin.
Accommodation + Food:Tree tent accommodation will be provided for all participants. This heightens connection with nature, with the self and with others. All meals will be provided. These will be plant-based and provided in a kitchen immersed within the rainforest.This opportunity will be most enjoyed by:* designers with an interest in bamboo construction;* lovers of adventure and the challenge of pursuit;* creative individuals who thrive on collaboration; * nurturers of an attitude for contributing to life;* seekers of meaning and inspiration towards purposeful living.For a more complete sense of what this experience will be like, please have a look at what happened during Generation 1: Survival at: www.dwellinginsymbiosis.org/survivalInstagram @dwelling_in_symbiosis
What's included
Accommodation as per itinerary
Gratuities
Meals as per itinerary (B=breakfast, L=lunch, D=dinner)
All activities
Guided walking through the rainforest
Round-trip shared transfer
What's not included
Excess luggage (one hiking rucksack approx. 65 litres is appropriate)
Alcoholic drinks (not available)
Sleeping bag and all clothing for activites
---