Běijīng redefines and reinvents itself constantly. Stunning historical sights rub shoulders with cutting-edge architecture as the pace of change leaves residents breathless. There is a sense that this once conservative capital is enjoying the time of its life. Here, from Lonely Planet Magazine, is a quick taste test of what the city has to offer.
Things to see
China's best-preserved ancient site, the Forbidden City was home to the Ming and Qing dynasties. It is a striking series of wooden structures and courtyards full of imperial treasures (subway Tiananmen Xi or Tiananmen Dong; 8.30am- 3.30pm Oct-Apr, 8.30am-4pm May to Sept).
The former factory workshops of 798 Art District are now part of Běijīng 's art community. Peruse modern Chinese art at highlight galleries White Space Běijīng and Běijīng Tokyo Art Projects (10am-6pm; take the subway to Dongzhimen station, then bus 909 to Dashanzi Lukounan).
The verdant gardens and pavilions of the Summer Palace were a playground for the imperial court. Glittering Kunming Lake swallows up three-quarters of the grounds (19 Xinjian Gongmen; 8.30am-5pm; £9).
The Great Wall wriggles to the Gobi Desert across hill country north of Běijīng . The stretch at Mutianyu is the second closest section to town (reachable in 1½ hours) but less commercialised than Badaling. Many hotels run tours, but you can take the 916 bus from Dongzhimen (wall open daily; £5, cable car access £5).
Panjiayuan, aka the Dirt Market or Sunday market, takes place at weekends and has everything from Cultural Revolution memorabilia to Buddha heads. Bargain hard (off Dongsanhuan Nanlu; dawn-6pm Sat-Sun).
Where to eat
Donghuamen Night Market , near Wangfujing Dajie, is a food zoo: expect lamb kebabs, smelly tofu, cicadas, quails' eggs, squid, strawberry kebabs and more. Look out for the dragon-spouted copper kettles of xin gren cha vendors for an almond-flavoured sugar rush.
Swat aside the English tourist menu at Niuge Jiaozi and stick to what this place does best - servings of steaming, plump dumplings. Aim for the lamb and onion or roast duck. The restaurant has no English sign, but is opposite a building signed 'Hualong Street'.
Treat yourself to home-style cuisine at Xiao Wang's Home Restaurant. Go for one of the specials: deep-fried spare ribs with pepper salt or hot and spicy chicken wings.
Běijīng Dadong Roast Duck Restaurant is a favourite of Peking duck aficionados. Its hallmark bird is a crispy, lean duck without the usual high fat content, plus plum sauce, spring onions and pancakes.
The Source is a swish Sichuan restaurant with a romantic courtyard setting. The set menus offer typically spicy Sichuan dishes such as hot mapo beancurd (14 Banchang Hutong; lunch and dinner; set menus £12 or £18).
Where to sleep
Set around a sweet courtyard, hung unsurprisingly with red lanterns, Red Lantern House is located down a hutong (old alleyway). Rooms are simply furnished with pine or dark-wood beds and dressers; only a few are en suite.
Yan Yue Hutong, in which Hotel Cote Cour is located, used to be home to the dancers and musicians at the Ming court. Probably Běijīng 's best mid-range option, the rooms are furnished in imperial gold, red and green. They range around a pretty lantern-strung courtyard.
Hotel Kapok is Běijīng 's only boutique-style hotel. The space-age glass grille exterior frames the view out of every 'executive fashion room', each of which is styled with sharp, angular furniture and wood or limestone floors.
Defining China's retro-chic, Red Capital Residence has five kitsch rooms with original period antiques, some picked up from Politburo offices. Rooms include the Chairman's Suite and the Concubine's Private Courtyards.
Grand Hyatt Běijīng is an elegant, modern hotel located right in the heart of town. Exemplary services are matched by gorgeous decor: leather-clad chairs and glass-topped tables. There is an oasis pool and four restaurants.
How to get there
Běijīng 's Capital Airport is 17 miles from the centre. The Airport Line light-rail connects with the underground at Dongzhimen (£2.50). A taxi into the city costs around £8.50.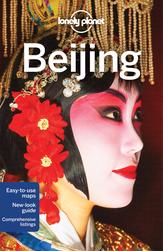 How to get around

The subway is fast, reliable and reaches most points of interest. Line 1 runs east-west, Line 5 north-south and Line 2 circles the city. The flat fare is 20p. Most hotels can arrange taxis and bikes (bike rental £2.50 per day; taxis charge 20p per km).
If you found this mini guide handy, there is plenty more advice and inspiration in the Lonely Planet Magazine - subscribe and get your travel info delivered straight to your door.