Tiananmen Square, Forbidden City and Great Wall Private Tour
Day Trips & Excursions in Beijing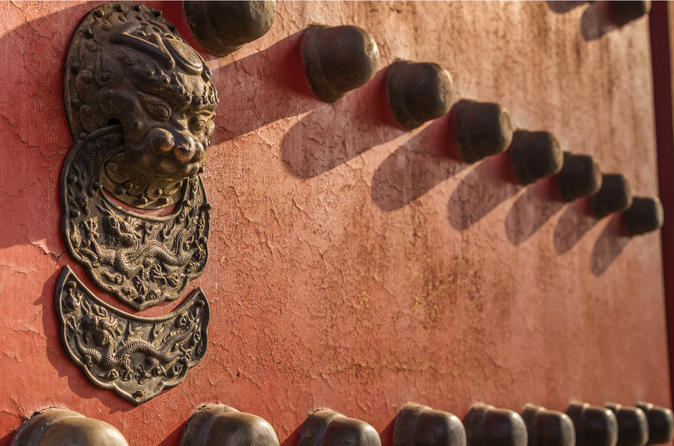 Image by Viator
Information from Viator
Tour description
This tour takes you to two of the most popular tourist sites in Beijing: Tiananmen Square, Forbidden City and the Mutianyu Great Wall. Following these amazing attractions, you'll be treated with an amazing foot massage. All entrance tickets and private transfers are all inclusive.
You'll meet your guide at your hotel and we will take you to Tiananmen Square and the Forbidden City, also called Imperial Palace, to experience some of the most amazing sites of one of the greatest empires in the world. These sites will help you understand just how impressive China's history is, and you'll be able to gain a deeper understanding of it with the tour guide's explanation.
Before a traditional Chinese cuisine lunch, you will have the chance to explore a silk factory where experts will help you see the process of silk making, from silkworm to finished product. Your guides can also help you explain how everything is made, and it's the perfect place to get some souvenirs for friends and families at home. You'll gain an understanding of the different qualities of silk, to make sure that you don't get ripped off.
After this, the drive to the Great Wall of Mutianyu takes about 1.5 hours. Visitors to Beijing always fall in love with the Great Wall, and for a good reason: it is one of the wonders of the world. Did you know that the Great Wall is the longest piece of architecture in the world, stretching from China's east coast to China's west desert? As you stand on the top tower and look at the wall snaking its way across the tops of the mountains, it's incredible to imagine that these walls once protected the Chinese empire's land from different invaders. At Mutianyu, you can hike up the side of mountain to the wall or take a cable car (at your own expense). Then you can walk over the wall passing several watch towers for different views. On the way down, you can either walk, or take the cable car or toboggan (at your own expense). After all of that, it will be time for a relaxing foot massage before bringing you back to your hotel. This will revive your feet so that you are ready to continue exploring the next day, regardless of how much walking you want to do.
What's included
Admission to all attractions as indicated in the itinerary
City-center hotel pickup and drop-off
Private English-speaking guide, or Spanish-speaking guide (if option selected)
Lunch
Foot Massage
What's not included
Great Wall cable car up and down, and toboggan fees
Drinks
Highlights
Instant Confirmation
Perfect introduction for first-time visitors
Lunch included
All entrance fees included
Private guide for a more personalized experience
Free hotel pickup and drop-off included
---