Xian Food Market Night Walking Tour
Food, Wine & Nightlife in China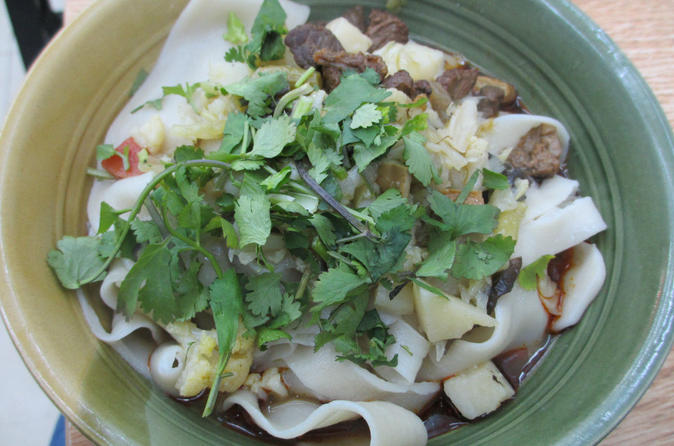 Image by Viator
Information from Viator
Tour description
Enjoy the delectable bites and cultural highlights of China on a 3-hour gourmet walking tour of downtown Xi'an. Appease an appetite for authenticity as you sample different types of local delicacies and gain fascinating insight into China's rich culinary culture with a knowledgeable and friendly guide. Visit authentic street vendors and rustic local restaurants in order to immerse yourself in the electric atmosphere of the city by night on this enriching and delicious tour of Xi'an.
Greet your gastronomic guide at a central location beside the Bell Tower in Xi'an and embark on your culinary tour of the city's vibrant downtown district. Listen as your guide offers intriguing insight into the town's rich history and then take a seat at your first eatery, Fanji Restaurant.
Sample the restaurant's specialty, rou jia mo, succulent grilled bread stuffed with minced pork, and sip a refreshing rice wine before wandering past the Drum Tower to the Muslim Street, an enclave famed for its cosmopolitan community of Chinese Muslims. Enjoy the colorful sights and enticing aromas of street food stalls and sip a bottle of sweet plum juice as you watch candies being made.
Next, head to Jia San Restaurant to pleasure your palate with guantang baozi, steamed buns bursting with flavorful gravy. Savor the flavor of succulent barbecue at another street stall and wash it down with a palate cleansing drink of bingfeng, similar to orange soda. Devour shredded pancaked and sesame fillets at another esteemed eatery and then return to Muslim Street to conclude your tour with a delectable persimmon pancake.
After 3 hours of feasting, bid your guide and group farewell at a central Xi'an location and make your own way back to your accommodation.
What's included
Gourmet walking tour
All food tastings
Friendly and informative guide
What's not included
Gratuities (optional)
Hotel pickup and drop-off
Highlights
Snacks and Beverages included
Private guide for a more personalized experience
Small-group tour
Special Offer
---