Museum of Qin Terra-cotta Warriors and Horses from Xi'an
Day Trips & Excursions in China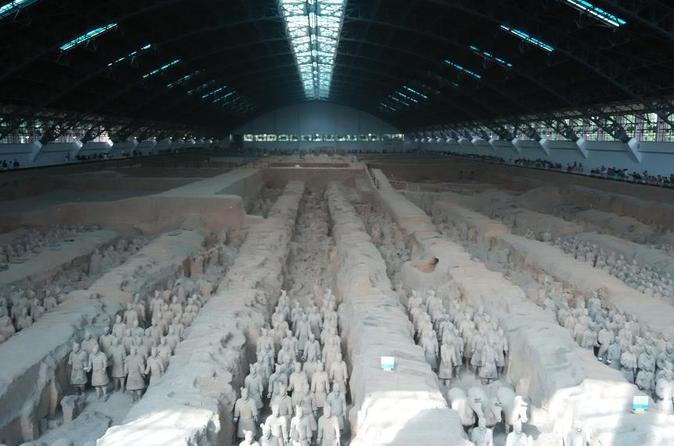 Image by Viator
Information from Viator
Tour description
The Terracotta Warriors was one of the world's greatest archaeological finds. These sculptures of soldiers, chariots and horses were funerary statues made to accompany China's first emperor, Qin Shi Huang, to the afterlife. Your tour today will take you to visit this Terracotta army museum.
Our English-speaking guide will pick you up at your hotel lobby in Xian city centre between 7:00 am to 8:30 am depending on other customer's hotel pick-up. The exact time will be informed by your guide a day before the tour starts, normally after 6:00 pm, by a phone call to your hotel.
On the way to the Terracotta Warriors Museum, we will first make a short visit to the Terra-cotta Figures Factory which focuses on the reproduction of the Terracotta Soldiers. Next head to visit the Terracotta Warriors and Horses, which are one of the most significant archeological excavations of the 20th century. They were discovered by local farmers in 1974 and now it is one of the most visited museums in the world. Life size terracotta figures of warriors and horses arranged in battle formations are the star features at the museum. They are replicas of what Qin Shi Huang's imperial army would look like at that time, 210-209 BC.
The army was built in order to protect the emperor in the afterlife. Today, there are still miles of land with unexcavated treasures. Different pits have different figures – ranging from military personnel to musicians, acrobats, and strongmen. In the main and most impressive vault of the museum, you will see figures arranged in typical battle formation in 11 columns comprising officers, soldiers holding spears and swords, and others steering horse-drawn chariots, as if ready for one last battle. Don't hesitate to explore the museum exhibits displaying artifacts and a film on the fascinating history of the mausoleum.
After enjoying a traditional Chinese cuisine lunch, we will drive by Qin Shi Huang Mausoleum without stopping in order to see it from the distance. Then transfer back to your hotel in Xian city centre
What's included
All entrance tickets as mentioned in itinerary
Traditional Chinese cuisine lunch
All transfers as mentioned in itinerary
Transportation by air-conditioned car
Professional and friendly English speaking guide
One bottle of mineral water
What's not included
Gratuities (optional)
Drinks
---