Hainan Island Deer Turn-Around Park and Areca Valley Resort Day Trip from Sanya
Cultural & Theme Tours in China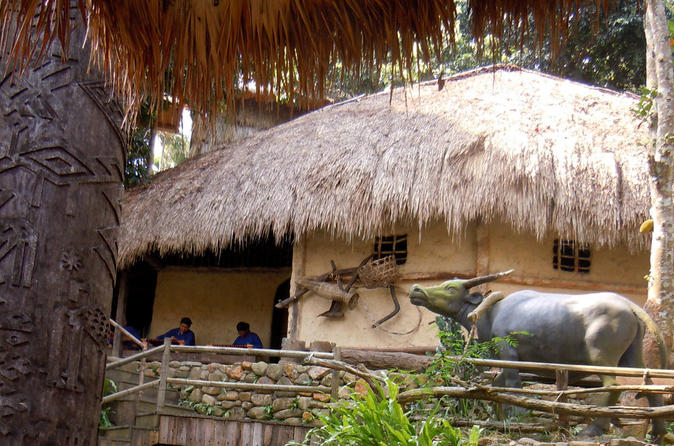 Image by Viator
Information from Viator
Tour description
Sanya, a popular tourist destination because of its mountains, seas, rivers, and beautiful beaches, has mild climate all year around and especially pleasant during summer season. This tour will take you to visit Areca Valley Tourist Resort and Deer Turn Around (Luhuitou) Park in the capital city of this subtropical island province of China.
In the morning, your guide will meet you at the lobby of your hotel and then take you to visit Areca Valley Tourist Resort of Hainan Ganza Ridge Primitive Culture. This resort is located in Ganza Ridge Natural Reserve on the border of Sanya City and Baoying County which is approximately 17.5 miles (28 kilometers) from Sanya covering a total of 24.6 hectares with the nickname, Binglanggu, from the valley it is located. The reserve is consisted of three major features: the primitive Li Minority village, the ecological Miao Minority village, and the tropical jungle. It is one of the most popular tourist attractions on Hainan island ranked in the top ten of scenic areas.
A must when visiting the highlands of Hainan is to sample local Li ethnic minority specialty dishes and snacks. The Li ethnic group here mostly dwell in the mountain ranges of central Hainan with a history of isolation from the outside world in terms of culture and cuisine. Majority of the ingredients used in their dishes are naturally and organically grown in the mountains. Some of their signature dishes are popular among locals and visitors alike such as Bamboo Rice, Fish Tea, and Pumpkin Rice. All of which are unique to Hainan. 
Lunch is left for your own arrangement but you are highly recommend to Li ethnic minority cuisine available at Bolong Restaurant. After lunch break, you will continue sightseeing at Deer Turn Around (Luhuitou) Park which is located on top of Wuzhi mountain in downtown Sanya with incredible views. The name of the park, and the deer statue, came from a love story of a young hunter living on Wuzhi Mountain a long time ago. The hunter came across a beautiful deer during an outing and chased after the deer over 99 mountains and 99 rivers for 99 days and nights, and finally, he cornered the deer by a cliff. Just when he raised his bow, the deer turned into a beautiful girl and the rest is history.  After your visit to the park, you will be transferred back to your downtown Sanya hotel.
What's included
Experienced local English-speaking guide
Main entrance tickets to the attractions listed
Hotel pickup and drop-off
What's not included
Accommodation
Meals
Additional food and drinks
Personal expenses
Gratuities (recommended)
Highlights
Instant Confirmation
Enjoy a day away from the hustle and bustle of the city
Led by a local guide
Close encounter with wildlife
---