QUEBEC CITY PRIVATE WALKING TOUR - Historic District Architecture
Walking & Biking Tours in Québec City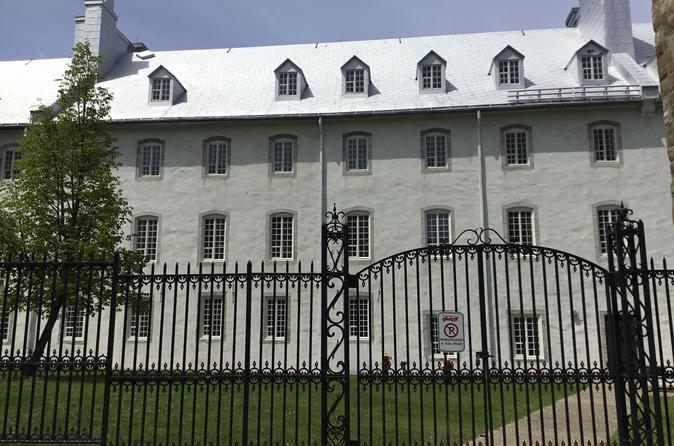 Image by Viator
Information from Viator
Tour description
Explore Old Quebec City rich urban historical ensemble of military, religious, political and civil institutions dating from the XVII century and beyond.Get the European feeling and atmosphere of the Fortified City through a particular look at the architecture evolution and legacy  from colonial period to modern Canada. The tour is designed for  visitors interested in art and architecture in connection with history. During the tour, we  talk about the  various styles periods and trends that allowed Quebec to remain the most European City in north America. Especially visible in the Old district, the architecture and urban layout reminds us of the European ambitions of the XVII century in relation to the particular geographic position of Quebec. We also look at the religious art history and heritage, talk about the role of artist from topographic to modern art. We look at the legacy of Scottish, Irish and American in the architecture of the place.
Highlights
Your own private professional guide for a 2.5 hours walking tour. Your guide will help recognise the foot print of European culture and colonial periods of the Canadian history on heritage buildings, public squares, waterfront district and public art,  explaining the constraints and visions that resulted in the multi layers of styles still visible in the city.
The tour covers the main World Heritage UNESCO site of the upper and lower town.
Discover an interesting mix of buildings and history representing military and church powerful era, merchants and settlers houses and warehouses from the XVII to XX century.
Find out about the role and influence of climate and geography on urban plan, buildings and architecture.
Discover the legacy of craftsmen and architects, artists and politicians who were able to preserve the architectural style of different periods in Quebec City.
What to expect The tour starts at your hotel preferably near the old district.Your guide is a local whose ancestor came from France during the XVII century.Through the eyes of your private local guide,  you will be able to have a different look at heritage buildings, public squares and public art. Your guide will help you see about the French, British, Scottish, Irish and American influence on the architecture of Old Quebec City . The tour unveils the conditions and circumstances in which buildings  and urban plan were established in an attempt to transplant European culture and society in French and British America. Walking around iconic buildings, public squares and archaeological sites,  the tour draws your attention to buildings that reflect evolution of the historical district,  from colonial period to modern time.  Like a time traveler, you will be able to visualize the timeline of Quebec' history on buildings, see the layout of the XVII century French urban plan and learn about the architectural trends, periods and strategies that enable Quebec City to remain the only walled city north of Mexico.
What's included
GST (Goods and Services Tax)
---