The perfect trip to Cambodia
From its ancient temples to its elegant capital and all the rich village life in between, Cambodia is a small country with a big soul. Join Amy Karafin of Lonely Planet Traveller magazine and explore a kingdom where family, community and pagoda life reign supreme. Photography by Mark Read.
Monks stroll through the temples at Ta Prohm, close to Angkor Wat. Image by Mark Read / Lonely Planet Traveller.
After a troubled history, which reached its nadir with the Khmer Rouge's enforced eviction of the city in the 70s, the 'Pearl of Asia' is thriving, with a flourishing café culture and a glut of world-class fusion restaurants.
Prosperity has added an extra sheen to its cultural institutions too, many of which were built during Cambodia's French Protectorate era, beginning in 1863. Among these is the Art Deco Psar Thmei, a pastel-yellow covered market with four wings radiating from an enormous central dome. A few hours after dawn and the Central Market, as it is also known, is already a blur of browsing and bartering.
Just a few blocks from the market, the National Museum is close enough to the riverfront to receive some of its welcome breeze. Inside, visitors reflect upon 1000 years of Khmer sculpture. The adjacent Royal Palace, with its glistening spires and dragon-tail details, still dominates the city's low-rise skyline. In a corner of one of its courtyards, a team of artists is working to restore a 1901 mural of the Reamker – Cambodia's version of the epic Hindu poem the Ramayana.
'We have to work slowly,' says lead artist Roeung Sreyna, gesturing to the mural behind her. 'If it were a normal painting, we could do it in a year, but this is our history, so we have to take care.'
A villager steers her floating coffee shop cum convenience store. Image by Mark Read / Lonely Planet Traveller.
Tonlé Sap: best for lake life
In the village of Me Chrey, the streets are made of water and the wooden houses float. The village's 500 families are among the thousands who have settled on the surface of the freshwater Tonlé Sap, Cambodia's 'Great Lake', where, not surprisingly, life revolves around the water.
As dawn breaks, Me Chrey is already abuzz. Toddlers paddle small aluminium tubs down the main street, and fruit and vegetable sellers in bright floral clothing and conical hats navigate boats between houses. It's an itinerant existence. The floating houses, which are tied to one another, are moved by the villagers four times a year to follow migrating fish stocks.
Sok Ang has lived in the village for more than 30 years. Her shop sells all the necessities, from shampoo to cooking oil as well as lotus-seed snacks. The shop doesn't have a name – at least not officially. 'Everyone calls it Yeay [Grandma] Ang's shop. I don't have grandkids, but the village calls me that.'
In this remote, placid, water world, it's no surprise to learn that cooperation holds sway. 'The whole village are friends,' says Grandma Ang. 'I know everyone. If a family has a celebration, we all go to help out. Same if someone is sick – if one family has a fast boat, they'll bring them to the mainland. We all have each other.'
Chhum Sdeong stands at a Ta Prohm temple entrance. Image by Mark Read / Lonely Planet Traveller.
Angkor: best for temples
Angkor Wat is the world's largest religious structure, an architectural representation of the Hindu universe and the undoubted star of a massive temple city built, over the course of 600 years, by dozens of rulers who considered themselves part god, part king.
The temples are still active centres of faith and everyday life today. Among the tourists who cross Angkor Wat's sandstone causeways to explore its warren of chambers, courtyards and covered galleries are ranks of the devout. The Gallery of 1000 Buddhas is now bereft of the vast majority of its statues – a legacy of the brutally destructive Khmer Rouge era of the early '70s. Yet its spiritual significance remains undimmed.
At Ta Prohm, to the northeast of Angkor Wat, strangler figs spill like liquid over 39 temples in various stages of ruination, creating a tangle of tipsy roofs and dark hallways. Inside one temple, an altar of Shiva, replete with gold-foil decorations and offerings of mangoes and Sprite, is tended by a 'wat granny' – the term for older women, often widows, who have taken monastic vows and help maintain religious buildings between meditation and prayer.
Monastic communities continue to live throughout Angkor. Tao Lav is 18 years old and joined Ta Prohm Meanjay, a pagoda (a blend of temple and monastery) outside Ta Prohm, earlier in the year. 'Now that I've learned how to meditate, I like doing it,' he says. 'I feel so fresh afterwards. I'm trying to meditate more and more – no more thinking about the outside world.'
The tropical moist broadleaf forest remains a largely unexplored region. Image by Mark Read / Lonely Planet Traveller.
Cardamom Mountains: best for jungle
The early-monsoon rains are falling hard in the Cardamom Mountains, and for the first time this year the Tatai Waterfall is rushing over boulders, the moss that clings to them now a little greener. This richly verdant pocket of southwest Cambodia is an area of protected forests and conservation corridors. What really preserves it, though, is its impenetrability – a dense web of jungle canopies enveloping a smattering of small villages and, latterly, eco-resorts. No surprise that the Cardamom Mountains was one of the last strongholds of the Khmer Rouge, with militants hiding out here for nearly two decades after the regime's barbarous heyday in the late '70s.
Leaves that will later be used to wrap sticky rice are glistening, and an 'ant house' – a tiny, box-shaped nest made of leaves – has been dislodged by droplets and lies on the ground. Villagers will employ this in traditional medicine. Little goes to waste in such a remote and bountiful environment.
A flower stall holder at Angk Tasoam market. Image by Mark Read / Lonely Planet Traveller.
When Siphen Meas was growing up in the '80s, her family lived off the land. Like most Cambodians, they'd lost their property and savings during the four-year rule of the Khmer Rouge that ended in 1979. Unlike many, they'd escaped with their lives.
'We didn't go shopping. We found our own fruit and grew our own vegetables,' she says. Today, Siphen and her family shop all the time – nearby Angk Tasoam market is a favourite – but they still work the land in their village of Prey Theat, around two hours south of Phnom Penh. She now runs a homestay with her husband Mach, a fellow English teacher. Their house is surrounded by paddy fields, in which ducks frolic under the irate gaze of yoked oxen, as children wobble past on oversized bicycles.
The homestay is a focal point of the village, many members of which are related to Siphen and Mach – Siphen hazards a guess that they have 100 family members in Prey Theat. 'Even the distant cousins are close,' explains Siphen. 'Everyone looks after one another. Many people were lost from our family during the Khmer Rouge's rule. So we all feel cold in our hearts and want to be closer to each other.'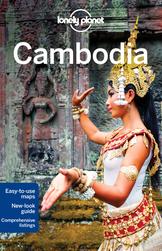 Make it happen: three of the best tour operators
Luxury tour operator Cox & Kings (coxandkings.co.uk) offers a range of escorted group tours and tailormade trips to Cambodia, with the focus on top-end accommodation. Trips cover locations from the World Heritage site of Angkor (pictured above) and Tonlé Sap Lake to the beaches of Sihanoukville. A 13-day private tour with four nights in Siem Reap, three nights in the 4 Rivers Floating Lodge in the Cardamom Mountains and three nights in Phnom Penh includes daily breakfast and transfers (from GB£1,795, including flights via Ho Chi Minh City with Vietnam Airlines).
Responsible travel specialist Intrepid offers small-group (maximum of 12 people) tours staying in locally run hotels and homestays, with travel mainly on public transport. Highlights of its six-day Classic Cambodia trip include a three-day pass for Angkor, and visits to the Royal Palace and Tuol Sleng in Phnom Penh (from £630, excl international flights; intrepidtravel.com).
Adventure travel specialists World Expeditions offers a four-day Cambodia trip with leisurely cycling around the temples of Angkor. Three-star accommodation, bike hire, entry fees and guide are included, along with transfers from Siem Reap airport (from £395, excluding flights; worldexpeditions.co.uk).