My own private Angkor Wat
Two-and-a-half days to travel 120 km, sleeping rough beside chest-high mud quags and an explosive stomach bug… whatever's waiting at the end of that particular junket better have a mighty fine payoff. But when your destination's the superlative-busting Preah Khan, it all seems worthwhile — no matter how many insects you swallow in your sleep.
A sprawling temple complex to rival the majesty of Angkor Wat and the untamed splendour of Ta Prohm, Preah Khan was built in the 12th century by Jayavarman VII to commemorate victory over Cham invaders. Its name means 'holy sword', and while triumphalism has given way to tranquility, the breathtaking beauty of Preah Khan remains fierce.
Staggering into a temple encrusted in mud may not make for the world's most respectful entrance, but judging by the impassive face of the lone guard at Preah Khan's stately arch, I wasn't the first victim of the jungle 'roads'.
But apart from the gods — Preah Khan was originally a Hindu temple but was later reconsecrated to Buddhism — there wasn't really anyone to cast judgment: the site was deserted.
This tremendous isolation is one of the biggest joys of a visit to Preah Khan: while local guides are recommended to grasp the gamut of the temple's history and import, the rare visitor is free marvel in silence at crumbling apsara halls, intricate naga carvings and contemplative nooks of the libraries.
As I scrambled over chunks of history — renovations are constantly on the cards, but much of Preah Khan lies captivatingly dilapidated — I felt an adventurous flush impossible to replicate anywhere within 50kms of a bitumen road.
As other, more accessible sites fall victim to big business (Angkor Wat's ticketing is now controlled by the mighty Sokimex) and thronging hordes, Preah Khan remains the ideal destination for temple buffs seeking serenity… and those with overactive Indiana Jones fantasies.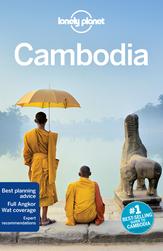 Tamara Sheward travelled to Cambodia on assignment for Lonely Planet. You can follow her adventures on Lonely Planet: Roads Less Travelled, screening internationally on National Geographic.