Lonely Planet: Roads Less Travelled Cambodia itinerary
Kick off in bustling Phnom Penh to experience the dichotomies of a city on the brink of a boom, where cyclos creak past Hummer dealerships, and ramshackle markets nudge glistening new developments with names like 'Elite Town'.
Hotfoot it down (and then, rather bumpily, up) to Bokor Hill while you still can: this eerie, erstwhile colonial-era getaway is in the process of being transformed into a resort for Cambodia's nouveau-riche. The sunny seaside town of Sihanoukville makes for a great launching pad to the 60-plus islands dotted across Cambodia's largely unexplored south coast.
Hop a ferry, or hire your own boat and captain, and immerse yourself in the local life of the fishing villages on Koh Sdach and Koh Kong, or discover your own secret beach on Koh Rong or Koh Smach. Disembark at Krong Koh Kong and choose your own Cardamoms adventure: drift up from Andoung Tek to the eco-adventure village of Chi Phat or head north on the back of a small (but rugged!) motorbike along a disused logging trail to Pramouy, the dusty district capital.
The Bamboo Railway from Pursat is less touristy than its Battambang counterpart — clack down to Chheu Tom and moto onwards to the industrious port town Kampong Chhnang to set sail on a Tonle Sap adventure.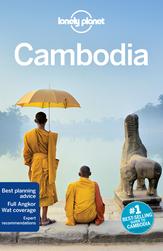 In the wet season, ferries run from the floating village of Phat Sanday to Kompong Thom, an ideal base to prepare for a jungle run to the gloriously ramshackle Preah Khan, a temple to rival Angkor Wat…without the crowds.
Tamara Sheward travelled to Cambodia on assignment for Lonely Planet. You can follow her adventures on Lonely Planet: Roads Less Travelled, screening internationally on National Geographic.