Brazilian beaches by buggy
Right at the tip of the eastern coast of Brazil, blissful days can be spent traversing hundreds of different beaches by beach buggy, effectively avoiding traffic as you glide past untouched sand dunes and witness glorious coastlines. Stops at the traffic lights are substituted for moments to dip your toes into azure-blue Brazilian waters, sampling some South American cuisine and experiencing local culture.
Brazil's gorgeous eastern coast has kilometre upon kilometre of glorious beaches, some of them small palm-lined bays, others 20km long and backed by huge dune fields piled up by the coastal winds. Settlements from the shore vary from the large-ish cities of Natal and João Pessoa to tiny undeveloped fishing villages.
Adventurous travellers who have time on their hands and don't mind sand in their faces or wind in their hair can make the fabulous trip of approximately 750km along the shores of this eastern coast from Natal to Fortaleza by beach buggy. You can travel in either direction. The trip takes three to five days and you'll pass approximately 92 beaches.
This stretch of coastline is one of the most beautiful and undeveloped in Brazil. There are cliffs of coloured sands, rolling dunes, salt flats, reefs, palm-lined beaches, beaches with freshwater lagoons, tiny traditional fishing villages and some larger settlements that are popular with local weekenders.
The stretch between Zumbi, some 60km north of Natal, and Galinhos, about 130km further, is particularly rugged and quite isolated in parts. Between Galinhos and Porto do Mangue you have to head inland along roads to get round the mangrove and salt swamps near the coast. You'll spend nights in pousadas along the way, in places like São Miguel do Gostoso, Praia do Marco, Galinhos, Ponta do Mel and Canoa Quebrada.
Anyone can hire a buggy in Fortaleza or Natal and drive on the beaches, but a trip of this kind requires an experienced driver. Beach buggies average 40km/h, and it takes a skilled driver to negotiate the uneven tracks, soft sand and small rivers that empty into the sea. You also have to drive certain parts only at low tide. Locals will ferry the buggies on rafts over the wide river mouths.
If you hire a driver you'll be asked if you want the trip com emoção (with emotion), and if you agree you'll be treated to thrills such as Wall of Death and Vertical Descent. Summoning your inner-child is an absolute must.
The average cost for the trip is R$1500 to R$2000 for up to three passengers, including lodgings, breakfast and the driver. Make sure you go with an accredited (credenciado) driver. Your hotel can normally put you in touch with a suitable agency or driver. A recommended agency in Natal is Top Buggy. It's also possible to do the trip in Jeeps, with firms such as Aventura Turismo in Natal, or Nordeste Off Road in Fortaleza.
For those of you who can afford to spend more time in this part of the country, different types of adventures await those willing to explore inland. Spend a couple of nights in one of the coastal villages and head to the parched, drought-prone interior, which is home to dramatic landscapes and some of Brazil's most spectacular ancient remains, from fossilised dinosaur footprints to millennia-old rock art.
If you happen to be there towards the end of the year, tie in a trip to Natal in order to experience their own version of Carnaval. This festival takes to the streets at the beginning of December and is a great substitute for those who cannot make the more infamous one in Rio.
This article was originally published in May 2010. This article was refreshed in August 2012.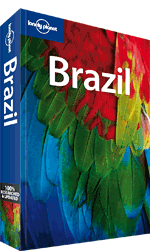 For more information on beaches check out the Brazil Travel Guide