All eyes on Brazil for 2014
As if endless strands of sun-toasted coast, mountains splashed with Crayola-green rainforest and significant populations of some of the planet's most beautiful colonial villages and wildlife didn't already add up to an unfair share of heaven, Brazil goes and snags two of the most coveted sporting events in the world, beginning with the 2014 FIFA World Cup and followed two years later by the 2016 Summer Olympics.
Tack on a recession-dodging economy, and boom! Brazil is the belle of the ball. Of course, hosting two of the world's most high-profile events means Brazil's infrastructure and security have come under scrutiny, and – despite some occasional lapses – both are on track to ensure a smooth ride for visitors in 2014.
Boy diving off rocks at Morro do Leme in Rio de Janeiro. Image by Richard I'Anson / Lonely Planet Images / Getty Images.
Gearing up for 2014
Rio de Janeiro has made huge strides in crime crackdown and now offers a palpable sense of security along world-famous sands such as Copacabana, Ipanema and Leblon; other FIFA World Cup host cities such as São Paulo, Belo Horizonte, Recife and Manaus are following suit.
While the focal point of these events will be Rio – where idyllic golden beaches, iconic postcard-perfect mountains and one of the sexiest populations on the planet create an intoxicating tropical cocktail that leaves visitors punch-drunk on paradise – Brazil, despite the stereotypes, is much more than beaches and bikinis.
Beyond Brazil's big cities
After joining the caipirinha-fuelled caravans in FIFA World Cup host cities, an escape will be in order. Be it trekking across towering windswept dunes peppered with cerulean lagoons in Lençóis Maranhenses, exploring gilded colonial churches in frozen-in-time cities such as Ouro Preto or swimming in aquarium-like rivers near Bonito, Brazil's diversity will leave you slack-jawed.
Brazil's list of dream destinations is long. Rio's urban setting is the southern hemisphere's most stunning, while a visit to the iconic Iguaçu Falls – where 275 waterfalls crash across the border with Argentina – is simply unforgettable. And then there's the enigmatic Amazon and wildlife-rich Pantanal, two of the most biodiverse regions on earth.
Regional flavours
No South American country can match the diversity and cultural pedigree of Brazil's local grub. The country's gastronomic capital, São Paulo, has embraced gourmet street-food fairs. Events such as O Mercado (monthly in Vila Mariana) and Feirinha Gastronômica (weekly in Vila Madalena) feature booth after booth of local chefs whipping up delicious culinary offerings to salivating paulistanos. And the food-truck craze is on its way to Brazil – just as soon as most cities can work out hygiene legislation.
In the north, indigenous Amazonian ingredients such as tucupi and jambu shape local dishes of duck and river fish. African roots fuel the cuisine of the northeast, where vatapá (a paste of shrimp, coconut milk and peanuts) stuffed inside acarajé (fried fritters made from black-eyed peas) makes for Bahia's ultimate cross-continental snack. Brazil's two most famous dishes, moqueca (spicy seafood stew) and feijoada (bean stew with pork or beef), are also steeped in African influences. In São Paulo, Japanese, Italian, Syrian and Lebanese immigrants have introduced delectable ethnic cuisine. And in the south, cowboy culture – and beef – rules.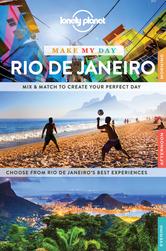 When to visit: the best festivals and events for 2014
From 28 February to 4 March, some six million revellers converge amid sun, sand and samba for Rio de Janeiro's annual Carnaval celebrations and from 12 June to 13 July, the world's biggest football party comes to Brazil. The 2014 FIFA World Cup kicks off in São Paulo and ends in Rio de Janeiro a month later, hitting 10 additional cities in between. Grab your calendar and time your trip for one of these unforgettable events.