Meet the host cities of the 2014 World Cup: northeast Brazil
Get ready for global football fever. In June and July 2014, a dozen Brazilian cities will host the 20th FIFA World Cup. In this series of articles, we give you the lowdown on their don't-miss sights, the best places to eat, drink and sleep – and, of course, where to catch the matches. This article covers Fortaleza, Natal, Recife and Salvador. Don't miss our hot tips for the other host cities in south Brazil and the southeast, and north Brazil and the interior.
Fortaleza
Stretching 20km along Ceará's coveted coasts is Fortaleza. Its 3.6 million people, many of whom reside in a line of residential high-rises banked against dramatic seas, work hard and play hard. After all, this northeastern metropolis offers the kind of relaxing beach lifestyle craved by retirees, surfers and all manner of beach bum in between.
What to see: The Centro Dragão do Mar de Arte e Cultura is an excellent cultural and entertainment centre, but Fortaleza is really about the beaches. The best in the city is Praia do Futuro. Other than that, Fortaleza is best used as the jumping-off point for hugely popular Ceará beach destinations such as Jericoacoara and Canoa Quebrada.
Where to stay: Albegaria Hostel in Iracema Beach is our favourite in the city, boasting great facilities and a friendly English-speaking owner. For midrange bliss in an excellent Meireles location, look no further than French-Brazilian run Hotel La Maison. The luxurious Hotel Luzeiros was Ceará's first design hotel and remains Fortaleza's best balance of hip and hospitality.
Where to eat: Coco Bambu does a lot of everything but…actually, there's no rub: they do a lot of everything well. Colher de Pau is the best in town for top regional northeastern cuisine, especially baião de dois (a kitchen-sink mix of rice, beans, sun-dried meat, herbs and spices). Chef Rodrigo Moreira is considered the city's best – try his top-end grub at Santa Grelha (www.socialclube.com.br/santa-grelha), voted Fortaleza's best restaurant seven times and counting.
Where to drink: The city's beaches are famous for their megabarracas – massive beach bars – and Crocobeach is the place to go to throw yourself into the heart of the hurricane (if they don't have a big screen showing games, nobody will). For something indoors, Boteco Praia is always wild for important games.
Where to watch the Cup: The 67,000-capacity Arena Castelão (www.arenacastelao.com) was the first of Brazil's World Cup-ready stadiums to be completed and sits about 11km inland. On the new MetroFor (www.metrofor.ce.gov.br), catch the red Sul line to Parangaba and grab a taxi for the last 8km.
Natal
Breezy Natal isn't sexy, but a little R&R in the sands of a sun-drenched city never warranted any complaints. The large expanses of towering dunes that surround the city, especially in Ponta Negra, are easy on the eyes and only bested in height by a long bevy of beachfront condominiums that many of the well-to-do call home.
What to see: The very well-preserved Forte dos Reis Magos, dating to 1598, is one of Brazil's rarer still-standing Portuguese forts. The 3km-long Ponta Negra beach in the south of the city ends at Morro do Careca, a towering sand dune that empties into the sea like a massive playground slide for giants. Otherwise, Natal is the transit hub for nearby beach town Praia da Pipa, flights to Fernando de Noronha, dune buggy trips to Dunas de Genipabu and beyond.
Where to stay: Both Republika Hostel and Albergue da Costa in Ponta Negra should satiate all of your budget hostel needs. Nearby Apart-Hotel Casa Grande is an exceptional value midrange option with balcony sea views just three blocks from the sand. For those looking for refinement, Manary Praia Hotel is one of the most discerning in the northeast, tastefully peppered with photographs and knick-knacks collected the world over by the late owner.
Where to eat: Great budget dishes abound at Casa de Taipa, where a cheap Brazilian staple, tapioca crepes, is turned into a gourmet treat. Camarões Potiguar (www.camaroes.com.br), its menu heavy with delectable crustacean delights, is a must. Gourmands go for Manary Gastronomia & Arte at the Manary Praia Hotel – an uber-romantic, open-air beachside go-to for contemporary coastal cuisine punctuated by a jazz and blues soundtrack and, no doubt, a proposal or two.
Where to drink: The ever-popular Decky, a good 10km from the pitch, is one of Ponta Negra's hotspots, with a massive outdoor patio that rocks and rolls during big football matches. Bar Original (www.baroriginalnatal.com.br), another classic football bar, is within striking distance of the new Arena das Dunas.
Where to watch the Cup: The new and ultra-modern 42,000-seat Arena das Dunas sits halfway between the city centre and Ponta Negra. City buses 31, 39 and 41 will deposit you nearest the stadium.
Recife
It's hot and humid, gritty and gutsy, and no doubt rough around the edges but, believe it or not, Recife is the cultural hub of the northeast, boasting a vibrant historic centre, a rich music and arts bloodline, one of Brazil's best Carnavals and a lion's share of museums and cultural centres. Its nearly four million residents dance to their own drum – the percussion-heavy beat of maracatu – from the high-rise housing blocks of the bold and beautiful along the beach in Boa Viagem to the narrow streets of Recife Antigo.
What to see: Take in the crumbled ambience of the stroll-worthy historical centre, Recife Antigo, with its rich cultural centres, vibrant museums and the oldest synagogue in the Americas, Kahal Zur Israel. In the city's western edge in Várzea, the Oficina Cerâmica Francisco Brennand and Instituto Ricard Brennand, a ceramics workshop and art institute, are regional highlights and absolute must-sees. Recife is also the other jumping off point for flights to the stunning archipelago of Fernando de Noronha.
Where to stay: Our favourite budget digs is the Cosmopolitan Hostel in a converted family home in Boa Viagem. Pousada Casuarinas is a cosy, long-time favourite midrange nearby. The colourful colonial colony of Olinda, 10km northeast of central Recife, draws the majority of travellers to its cobblestoned streets and far more tranquil vibe. Pousada do Amparo is the best place to stay in either area, housed in two lavishly decorated 18th-century homes.
Where to eat: Parraxaxá is a fabulous por kilo for excellent regional cuisine, while Chica Pitanga (www.chicapitanga.com.br) turns the pay-by-weight lunch into a gourmet experience. Olinda's Oficina do Sabor, and its signature shrimp, lobster and passionfruit-sauce-stuffed pumpkins, is a regional gourmet treat. The diverse and contemporary Thaal Cuisine (www.facebook.com/thaalcuisine) is the city's current foodie magnet, where Chef Thiago Freitas puts his world cuisine to task in six different environments.
Where to drink: Portal do Derby (www.portaldoderby.rec.br) and its expansive outdoor patio is one of the city's best for watching football. Guaiamum Gigante is the best boteco in a long line along the beach in Boa Viagem – during World Cup matches, it's bound to be hoppin'.
Where to watch the Cup: Built from the ground up, the 46,000-capacity Arena Pernumbuco (www.itaipavaarenapernambuco.com.br) is 20km from the city centre in the western suburb of São Lourenço da Mata. Metro station Cosme e Damião is just 2.5km from the stadium.
Salvador
The epicentre of Brazil's Afro-Brazilian culture, Salvador was once the magnificent capital of Portugal's great New World colony; today, the Bahian capital shimmies, shakes and sambas through an intricately woven marriage of two continents' worth of culture, laid out on cobblestoned streets of 17th- and 18th-century architecture and churches paved with gold.
What to see: Pelourinho, Salvador's historic Unesco-declared old town, is splashed with colour, culture and capoeira. The Igreja e Convento São Francisco is one of Brazil's most beautiful churches, and Museu Afro-Brasileiro and Igreja da Ordem Terceira do Carmo are unskippable. The art deco Elevador Lacerda is an attraction in itself, hoisting folks 72m to Cidada Alta (the High City) from the city below. Salvador is also the jumping-off point for the nearby beach resorts of Morro de São Paulo and Boipeba.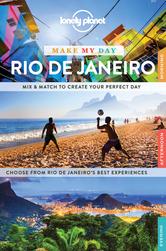 Where to stay: Almost everyone sleeps in Pelourinho. Hard to beat for amenities (swimming pool!) and atmosphere (Moroccan-style lounge!), Hostel Galeria 13, in an old colonial home, takes top budget honours. A hip midrange place is the Bahiacafé Hotel in the heart of the action. Casa do Amarelindo offers 10 exquisite boutique top-end guestrooms in a 19th-century colonial mansion. The city's most austere option is the Pestana Convento do Carmo inside the 17th-century convent of the same name, located in Carmo.
Where to eat: Bahia's most famous street food, acarajé (black-eyed pea fritters stuffed with vatapá, a creamy paste of shrimp, peanuts, coconut milk and dendê oil), are most famously fried at Casa Da Dinha (Rua João Gomes, 25 Largo de Santana). Bar Zulu (Rua das Laranjeiras 16) is the go-to for a far-reaching menu of local and international budget standards. The garden patio at Maria Mata Mouro is one of Pelourinho's most pleasant. Sample the Bahian staple (and Brazil's best regional dish, moqueca, a seafood stew) at modest Donana (www.donanarestaurante.com.br). Salvador's most esteemed reservation nabs you a candlelit bay-view table at Amado (www.amadobahia.com.br), where sophisticated Brazilian cuisine is taken to surprising new heights.
Where to drink: The centre of the action will be Pelourinho, but if that's too claustrophobic for you, Fayola Bar (www.fayolabar.com.br), a sort of Bahian sports bar, is also a good time for big matches. It's in the bohemian nightlife bairro of Rio Vermelho, 5km south of Pelourinho.
Where to watch the Cup: The 55,000-seat Arena Fonte Nova is a 15-to-20-minute walk from Pelourinho. Grab a Bohemia beer to go!