Rio bar snacks for beginners
This excerpt from Lonely Planet's Rio de Janeiro guide provides a introduction to the local bar snacks.
If you're heading home from the beach and can't be bothered with a sit-down meal, go Carioca and grab a meal at a neighborhood bar. While not particularly healthy, these satisfying snacks – known as petiscos, tira-gostos or salgados – go quite nicely with a chope.
Here are some items you are likely to find at most botecos:
1. Aipim Frito: Deep fried slices of cassava.

Image by JorgeBrazil
2. Bolinhos de aipim: Deep-fried cassava balls, sometimes served with shrimp and other treats baked inside.
3. Bolinhos de bacalhau: Deep-fried codfish balls.

Image by karl.s
4. Bolinhos de queijo: Crispy deep-fried cheese balls.
5. Carne seca com aipim frito: Sundried jerked meat with deep-fried cassava slices.
6. Coxinha: Pear-shaped cornmeal balls filled with fried chicken or beef.

Image by Koal:Bear
7. Linguiça acebolada: Fried sausage and onions.
8. Pão de queijo: A slightly gooey cheese bread, baked into bite-sized biscuits; the biscuits are so popular in Brazil that a whole franchise was launched on their success (naturally named Pão de Queijo).

Image by Jed Sundwall
9. Pastel de camarão: Crispy deep-fried pastry filled with shrimp. Other fillings include pastel de carne (beef ) and pastel de queijo (cheese – often the mild, stringy catupiry).

Image by kawanet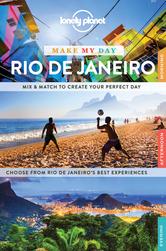 10. Torresmo: Deep-fried pork rinds.

Image by Bruno Gola
Find more food tips in the Lonely Planet guide to Rio de Janeiro.