Oruro Carnival: a guide to Bolivia's largest annual festival
This is an excerpt from Lonely Planet's A Year of Festivals.
Location: Oruro, Bolivia
Dates: 10 days around Ash Wednesday
Level of participation: 3 – you won't be a devil but you might be singled out for the water bombs.
'Tinku C' by CassandraW1. Creative Commons Attribution 
Listed by Unesco as a Masterpiece of the Oral and Intangible Heritage of Humanity, Bolivia's largest annual celebration is a massive event said to draw in around 400,000 people. Its centrepiece is La Diablada, the 'Dance of the Devils', an extraordinary parade that showcases demonic dancers in extravagant costumes.
The 4km-long entrada (entrance procession) takes place on the Saturday before Ash Wednesday and features 20,000 dancers and 10,000 musicians – so many people that the parade lasts up to 20 hours. It's led by a brightly costumed San Miguel character. Behind him, dancing and marching, come the famous devils and a host of bears and condors. The chief devil, Lucifer, wears the most extravagant costume, complete with a velvet cape and an ornate mask. Faithfully at his side are two other devils, including Supay, an Andean god of evil who inhabits the hills and mineshafts.
The procession is followed by other dance groups, vehicles adorned with jewels, coins and silverware, and miners who offer the year's highest-quality mineral to El Tío, the demonic character who is owner of all underground minerals and precious metals. Behind them follow Inca characters and a group of conquistadores, including Francisco Pizarro and Diego de Almagro. When the archangel and the devils arrive at the city's soccer stadium, they engage in a series of dances that tell the story of the ultimate battle between good and evil. After it becomes apparent that good has triumphed over evil (hurrah!) the dancers retire to the Santuario de la Virgen del Socavón at dawn on the Sunday, and a mass is held in honour of the Virgin, who pronounces that good has prevailed.
Though it is today a Christian celebration, La Diablada's origins are pre-Colombian. When Uru rituals were banned by the Spanish it morphed into something acceptable to Christendom, with Andean gods blurring into Christian images. Events continue through the week and include cha'lla libations in which alcohol is sprinkled over worldly goods (and four nearby rock formations) to invoke a blessing. The carnival ends on the Monday after Ash Wednesday with the Dia del Agua – the Day of Water – a huge water-bomb fight in which you as a visitor are likely to be a major target.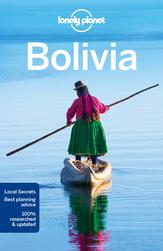 Essentials: Oruro is 3700m above sea level, so you should arrive a few days early to allow your body to acclimatise. With 400,000 people in town it'll pay to book a room well ahead. Carnival is a boon for petty thieves so keep everything under tight surveillance.
Local attractions: derided by some tourists, the unfashionable mining city has a few decent attractions: the Museo Sacro, Folklórico, Arqueológico y Minero delves into Oruro's mining roots (as well as displaying some La Diablada costumes). On Av La Paz, between León and Villarroel, you'll find small workshops offering devil masks, head-dresses, costumes and other devilish things.
See more festivals in February here.
This article was first published in December 2010 and was republished in January 2013.