Chungcharn Or
Lonely Planet Writer
Free download: Lonely Planet's new Northern Honshū (Tōhoku) chapter
In the last 18 months, Japan's enchanting northern Honshū (Tōhoku) region has rebounded swiftly from the devastating earthquake and tsunami of March 2011. Lonely Planet has been back to cover every corner of the region during its revitalization.
As Tokyo-based author Rebecca Milner wrote in her recent article on LonelyPlanet.com, Tōhoku is very open for travel. And for much of the region, the sudden absence of tourists added insult to injury. In an effort to support the region's tourism industry and local communities, and to deliver on our ongoing promise to provide quality, up-to-date travel information to Japan, we're providing the new, post-tsunami-researched and fully updated Tōhoku chapter now for free as a digital download (PDF).
This chapter was researched and written by Rebecca Milner in October 2012, and is destined for the 13th edition of our best-selling Japan travel guide, to be published in 2013, but you can download it now: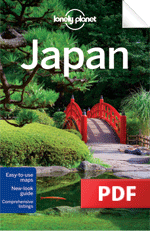 Get the free Tōhoku chapter here.
If you have a copy of Lonely Planet's current Japan travel guide (12th ed), please print this PDF and fold it inside your book to have the most recent information. Or if you have a competitor's guidebook or no guidebook at all – well, print it or carry it with you on your e-reader anyway! It's a gift from us to you.
As with any of our guidebooks, if you find anything with which you disagree, or if there are other Tōhoku sights/eateries/hot springs/transport details/etc that you think travelers should know about, we'd love to hear about them! Send us your tips, feedback and updates through our Guidebook Feedback page. Happy travels!
Sign up for our weekly newsletter
Get more travel inspiration, tips and exclusive offers sent straight to your inbox