Chungcharn Or
Lonely Planet Writer
Top US travel scams
Considering the vast numbers of travellers each year, it's encouraging that so little bad happens to people on the road. But there are things to be wary of. In the USA too, where American families travel nearly five times a year, mostly in-country, and an additional 156 million foreign visitors come to visit. Here are a few of the common scams that sometimes leave US travellers missing a chunk of change they hadn't expected to spend.
1. Timeshares & vacation clubs
If you've won a 'free trip' but it requires attending some sort of high-pressure orientation or tour, it's not really a free trip, is it? It's amazing how many people, while on vacation, end up doing things like buying a timeshare that they never intended to buy. The Better Business Bureau gets over 200 complaints a month on these. It's not worth it. If they have to resort to underhanded tactics to get you to listen to their pitch, you don't want the product. It's a better value to simply plan your own trip when/where/how you like and avoid the hard-sell.
2. Taxi scams
Most taxi drivers are honest and upfront about how much your fare will cost, but unfortunately you always need to keep an eye on the meter. Some places – we hear of New Orleans, Baltimore and Atlantic City, among others – may have suspiciously fast meters, or some try to round short ride fares up to a set price. In a touristy place, it's worth asking if there's a minimum fare before getting in. Then - important - watch the meter to make sure it's turned on.
It's a good idea to check out a suggested route from an airport to a hotel before you land, then follow the route you go with your smart phone's map. In some cases, there are alternate routes that may even save you time, so it's always good to know what to ask. Sometimes taxi drivers play dumb and purposely take back-way routes that help build up a fare (this is notorious for short rides in Las Vegas that take a longer bypass for no reason, or New York rides from JFK or LaGuardia to Brooklyn or Queens as opposed to Manhattan - New York cabbies get about 20 official complaints a day, though only 1 in 10 complaints ever gets results).
Sometimes hotels offer airport transfers, but charge far more than an ordinary cab ride would be, so check the price before jumping aboard.
3. Hidden fees & false deals
The airlines get a lot of flack for advertising one-way fares for flights that require a round-trip purchase, not to mention the increasing baggage fees and other hidden ways airlines try to extract more money at the time of travel. Similarly, if you book a resort hotel, particularly in a touristy place like a beach, Vegas or Orlando, look out for extra 'resort fees', which can sometimes add a chunk of daily expense you only learn about on arrival.
Package deals sound like a good idea, but they're frequently not deals. A 'from $299' cruise will inevitably lead to quotes for much more (as only a handful of quickly sold packages ever had the promo price), or a 'package' simply adds up the costs of bulk offerings (hotel, car, airplane, spa, meal) that you could pay for on your own for the same, or less. Check before hitting click.
Lastly, be wary of 'award winning' claims. Like when Will Ferrell in Elf enthusiastically falls for a New York diner claiming it has the 'world's greatest coffee'. (New York diners definitely do NOT have the best coffee, we can testify.)
4. Rental car insurance
You need to have car rental insurance, so it's not an outright scam, but many people get unnecessary coverage when renting a car. Many travellers that are already covered end up adding on insurance at the rental agent on the fly. Do your homework first. Obviously, if you have car rental insurance, call the company to find out what it covers on a rental. If you book with a credit card, call and ask if the card offers additional coverage - not all do, and the policies change frequently. Rental insurance is often cheaper if you rent from a consolidator like Expedia than directly from a car rental company.
5. Fake Rolexes, jewellery & DVDs on street
As tempting as that $5 DVD of Rock of Ages may be, or that $25 Rolex you see on a streetside stand, they're fakes. A street DVD may be cheap, but also could be a recording done in a movie theater, the Rolex may stop working before you can check if you're late for your flight home. More importantly, they're illegal.
6. Digital gimmicks
Four of the five summer travel tricks the Better Business Bureau warn about happen without seeing a person – online. They include hackers accessing your computer through unprotected wi-fi connections at hotels, fake pleas of rescue money from a friend or family member that appear via email or Facebook, or even sneaky mobile phone charges that may or may not have been the fault of the phone company.
Recently I was in Youngstown, New York, and checked my email and made a text message on my phone, when I noticed I was connected through Canada, across the river. A person at the next table had a US connection. I called my company and had the charges dropped. Good thing I noticed.
7. Evil Elmo impostors
Those Elmos at Times Square? If you take the real Elmo's photo, we're pretty sure he wouldn't harangue you for a tip, nor would he get fined by the NYPD. Plus everyone knows that Elmo lives in Queens and his parents wouldn't let him wander Times Square by himself.

Fake Elmos walk among us. Photo by Andy Cross.
Top photo by Brian Sahagun.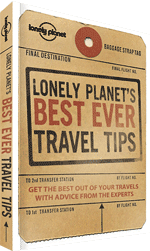 For more savvy travel advice, keep Lonely Planet's Best Ever Travel Tips close at hand.
Sign up for our weekly newsletter
Get more travel inspiration, tips and exclusive offers sent straight to your inbox