Chungcharn Or
Lonely Planet Writer
What are the seven wonders of nature?
This past week, the New7Wonders Foundation released a provisional list of the 'New7Wonders of Nature' based on popular vote, part of a series of lists attempting to define the wonders of the world as we see them today. The list (in alphabetical order) includes some well-known natural sights, but also some that are perhaps a bit surprising:
The Amazon
Halong Bay (Vietnam)
Iguazu Falls (Brazil/Argentina)
Jeju Island (Korea)
Komodo (Indonesia)
Puerto Princesa Underground River (Philippines)
Table Mountain (South Africa)
Are these really the seven must-see natural destinations? The folks at G Adventures had a different take. They put the question to their Wanderers in Residence, a group of well-known and extremely well-travelled bloggers: if you had to pick just seven natural wonders worldwide, which would you choose? The resulting list has only one item in common with the New7Wonders list, and adds in several heavy-hitters (including three Gs: Galápagos, Grand Canyon and the Great Barrier Reef). See the full G Adventures list here.

The Grand Canyon: a contender for any list of natural wonders (Photo by Paul Fundenburg)
Never ones to shy away from a good travel bucket list, we have our editors' top selections from Lonely Planet's 1000 Ultimate Experiences of Nature's most spectacular attractions, bucking the traditional 'seven wonder' trend and kicking it up to a nice round 10. How does it stack up with the others? There are only two in common with the G Adventures list, and zero in common with the New7Wonders. Hmmm. Looks like we're going to need someone to adjudicate.
So we'll put the question to you: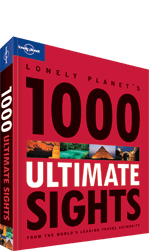 Why stop at seven? Check out Lonely Planet's 1000 Ultimate Sights - even there we're still only scratching the surface of the wonders the world has to offer.
Sign up for our weekly newsletter
Get more travel inspiration, tips and exclusive offers sent straight to your inbox