Chungcharn Or
Lonely Planet Writer
Full-immersion travel: 6 ways to transform yourself
Everyone's talking about 'local travel.' Staying in apartment rentals, making meals from local produce from farmer's markets, sticking with neighborhood parks and shops and leaving the big-time museums and chain hotels behind.
Question: what comes after that?
Full immersion. Travel to become something - or someone - else.
Recently I got to spend a couple days 'being' a Canadian Mountie at Regina, Saskatchewan's Royal Canadian Mounted Police - Depot Division, where Mounties have been made since 1885. I even got an official 'Mountie regulation moustache,' even if I was the only one in the troop wearing one.
What are other ways to immerse? Here are a few standouts in the USA, but there are many more you can find in your own part of the world:
1. Become a clown
Trisha Manuel (aka 'Pricilla Mooseburger the clown') tried clowning by chance when she was in college and was hooked for life. After years with the Ringling Brothers, Manuel opened the Mooseburger Clown Camp in Buffalo, Minnesota, in 1995, attracting first-timers and returning students from age 16 to 80. 'Clowning is pretty powerful stuff,' she explained.
Are you the clown stuff? Classes are intended for you to discover the answer.
'We're the people who laugh too loud, tell the bad jokes, maybe don't always fit in in conventional society,' Manuel explained. 'But when we get here, it's family.'
The five-night deal – with 20 teachers teaching 90 students – costs $895, including room-and-board and pie for pie fights. It's next scheduled July 31 to August 5. Or, as Manuel put it, 'the best week of the year.' Check www.mooseburger.com for more.
2. Become a falconer
You noticed that falcons have become the new pirate? Creeping into TV ads and the cool new weird thing? Turns out, the sport of falconry is simply 'hunting with any bird of prey' according to master falconer Dawn DeCrease of the British School of Falconry in Manchester, Vermont.
This school, opened in 1995 as an export from a Scottish school at the historic Equinox Resort, offers lessons that carry on on a Chinese tradition that dates back at least 3000 years.
'I was a vet at first, then met a falconer,' DeCrease explained. 'And I was like, really? People still do this?'
Forty-five minute lessons ($112) at Equinox Resort include meeting an eagle and falcon, but handling a Harris hawk.
3. Become an astronaut
There are two kinds of people in the world: those who want to go to space camp, and those who don't. Fortunately if you do, well, space camp exists. In Alabama! It's a three-day program with all the NASA simulations to get yourself ready for the (now defunct) space shuttle program: simulators, G-Force tests, manning the command center. And at $499 for a weekend, space camp seems a steal.
Space Camp offers weekend programs for adults in August and September.
4. Become a rock star
If Twisted Sister's 'I Wanna Rock' didn't seem at all silly to you (count me in the bunch), nothing beats Rock'n'Roll Fantasy Camp – a pricey three-day program where you 'make a band,' learn from pros, jam with folks like Vince Neil of Mötley Crüe, party at the Playboy Mansion and play a show for a rock-star judge crew.
All levels are welcome: first-timers, garage-band failures, the sort-of-talented. Past grads have sung national anthems at pro baseball games, quit doctor jobs and toured, and written books on the experience.
Spouses - aka 'groupies' - can visit evening events for discounted price.
5. Become a cowboy
Did you know 'dude' originally meant an urban kid afraid of the outdoors, bugs and the country way of life? The first 'dude ranches' drew city slickers to the cowboy life around the time Theodore Roosevelt, the quintessential dude, took down his first buffalo.
These days there are so many ranches there's actually a Dude Ranch Association keeping track. One of the gems is Wyoming's Hideout at Flitner Ranch, a real-deal ranch with cattle drives, round-ups, branding and all levels of riding through 300,000 acres of high desert, pasture and canyon. Four-night all-inclusive stays start around $2000 in summer.
6. Become an Appalachian
Every feel like tossing your smart phone? Open since 1925, the superb John C Campbell Folk School in Brasstown, North Carolina holds onto all things old-school Appalachia.
The rustic 300-acre school has overlapping programs all year - blacksmithing, wood turning, banjo, traditional cooking and jewelry are of the most popular - that can be enjoyed on one-week immersions, where you eat family-style with fellow students, witness demos and concerts and dances of the era, and can even stay in historic farmhouses on site. Me? I'd go for a week of learning to make and play a mountain dulcimer (a week's course is $568). Then maybe I could do this for kid's birthdays.
'It's a really relaxed environment. No TVs,' says school staffer Keather Weideman. 'Once you're here, you grasp it. Travel can be better when you spend a week learning something.'
Did you know travel also makes you smarter, sexier and more productive?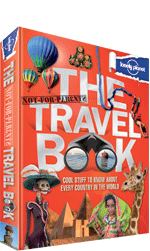 Immerse your kids in travel with Lonely Planet's new
Not-For-Parents: The Travel Book
, with page after page of cool facts about every country in the world.
Sign up for our weekly newsletter
Get more travel inspiration, tips and exclusive offers sent straight to your inbox