Chungcharn Or
Lonely Planet Writer
Do sporting events beat museums?
Everyone likes to see a place 'like a local,' or try to. Increasingly travelers skip central chain hotels and opt for apartments in neighborhoods or go to farmer's markets to get dinner supplies. In all, pretend to be a Parisian or Phoenixian for a week.
Museums are great, but as a prop to get connected into a place, they're a bit overvalued in my calculation. Sports, on the other hand, remain largely overlooked by travelers.
Few activities give greater access to community, a passionate community, than a sporting event. The game's scale is beside the point. Jumping in and showing interest is the point. If you don't understand the game (and are wearing local colors), fellow fans will help.
I've had tons of good experiences from this.
At a mother's day minor-league soccer game in Quetzaltenango, Guatemala, I ended up befriending sweaty shirtless guys hanging on the chain-link fence behind the opposing team's goalie. When the local team scored, I was smothered in hugs, and invited to toss celebratory fireworks on the pitch. (I declined.)
Everyone loves connecting Canada with hockey. The NHL is one thing, but the passion is more immediate – to me – at smaller-scale games. From Ottawa, I walked to Hull (Gatineau), Quebec, where their Les Olympiques were set to play in the Quebec Major-Junior Hockey League. It was a tiny, packed place. I sat between two bilingual families in the back row, about 12 up from the ice. We pounded the low ceiling to protest bad calls, or cheer on fights. And there were plenty of both.
I never could get into an Ivy League school by my grades, but I could with a football ticket – as I learned by attending a nearly forgotten, yet storied rivalry: the Harvard-Yale football game. Alums and students didn't carry the same attitude we see in films like 'Good Will Hunting,' and I left with a more balanced view of that alien culture of Harvard University. That's what travel should do anywhere.
Watch my 76-Second Travel episode on Harvard-Yale:

Sometimes it's about participating yourself.
For fun in Vietnam, I asked about ping-pong at a health center, and was introduced to a former women's champion, who offered to teach me. With murals of Coca-Cola and an exercising Ho Chi Minh surrounding me, she tried to correct my swing, likening it to taking apples out of a basket and tossing them to the side. I still have work to do. But at least I know how the Vietnamese toss their apples.
Big-scale events are sometimes better on TV, where you don't have to endure the commercialization, crowds or ticket price. Super Bowl? Probably not for me. But some have to be seen. I got more of a sense of New York City's community by simply cheering on runners at the marathon, a fall day when the city drops its guard and just celebrates the commitment of running 26 or so miles.
Yeah, I like the Met too. But, sorry, it has far less to say about New York.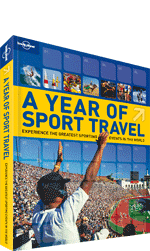 If you're a fan of sport and travel, catch
Lonely Planet's A Year of Sport Travel,
the traveler's guide to a full year of sporting events of every sort all around the globe.
Or see Robert fail miserably at a curling lesson in Quebec City.
Sign up for our weekly newsletter
Get more travel inspiration, tips and exclusive offers sent straight to your inbox