Chungcharn Or
Lonely Planet Writer
If you could travel to any city for the food...
If you could travel to any city in the world purely for the food, where would you go?
A simple question, but one that cooked up a fair amount of menu indecision, sizzling debate and hunger-induced confusion when we posed it to the community on Lonely Planet's Facebook page. Roughly half of the responses weren't cities at all, which we attributed more to foodie passion and Facebook's tiny font size, than to readers' poor grasp on basic geographic concepts. 'Italy', would have won handily, but, sadly, it's not a city (unless everyone was intending to vote for the town of Italy, Texas).
When all of the non-cities were removed and the votes were counted, Bangkok emerged victorious, winning the popular vote by a solid margin.
Top 30 food cities based on Facebook community votes (% of total city votes)
For the gotcha-minded technicality spotters, Penang is a Malaysian state (or an island in that state), not a city, but it's much shorter than saying 'The Greater Metropolitan Area of Penang aka The Conurbation of Georgetown', so we cut voters a little slack.
Some countries created anxiety for voters: the food is so good all across the country, how could anyone possibly be asked to pick a single city? Italy, Malaysia, Thailand, France, India, Mexico, Morocco and Greece all presented a culinary conundrum. Morocco and Greece slipped off the top 30 because of this, but in the end, too much good food certainly isn't a problem from a hungry traveler's perspective.
Notably absent in the top 30: Canada, the entire continent of Africa, Central and Eastern Europe, Central America and the Caribbean. The Southern Hemisphere got very little foodie love overall, but often-overlooked Lima, a rising star in the world of food, proved its culinary credentials by jumping into the #8 spot. While London did make it into the top 30, no doubt thanks to the vocal British community on Facebook, at least one voter added 'LOL', further evidence that one of the most spectacular and worldly food cities on the planet still suffers a bit of a bad reputation.
In the end, these results reflect popular opinion, but they leave out many amazing under-the-radar food destinations, not to mention some large world cities like Shanghai, Kolkata and Los Angeles. What deserving food cities, both large and small, did the popular vote miss?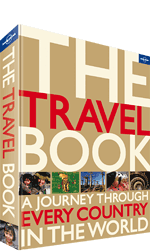 Bigger, brighter and bolder than ever, the second edition of
The Travel Book
, Lonely Planet's definitive travel pictorial journey through every country in the world, has been revised and updated to be even more inspiring than the last.
Find out more and take a look inside the new edition.
Sign up for our weekly newsletter
Get more travel inspiration, tips and exclusive offers sent straight to your inbox