Chungcharn Or
Lonely Planet Writer
How to avoid being stranded at US airports
No one likes an airplane delay – unless you really really want another 10 minutes of slots at Vegas' McCarran – yet it's more or less part of the flying life in the US, where one in five flights are delayed or canceled. That rate's only worse in winter. Particularly this winter, that's already seen thousands of canceled flights from snowstorms, costing the airlines losses of an estimated $150 million.
Airlines in the US, unlike the EU, aren't responsible to give you accommodation or food vouchers in case of an overnight delay due to circumstances beyond their control (like war or weather).
So how to avoid getting stranded an airport? Well, there are no guarantees. But there are ways to minimize the risk.
Before you buy a ticket
Buy direct tickets. Whenever possible, avoiding a connection halves the chances a delay will affect your travel plans. Plus it's better to be endure longer delays at either your home or destination than at somewhere between like DFW.
Get early flights. Even if airports stay open in a snowstorm, the later in the day, the more likely your flight will suffer some delay. Try to get the early ones out.
Stick with the familiar. If you have a preferred frequent-flyer membership with one airline, fly them in winter. In case you need to make changes, you have easier access to an agent, plus (perhaps) more willingness to rebook you on another flight.
Say 'yes' to travel insurance. The notion that a travel insurance policy only makes sense if you plan to rappel down the Grand Canyon is a myth. Particularly if you're heading for a Caribbean cruise or a Manitoban dog-sled adventure on a tour that will go without you, a policy will protect you from losing a nonrefundable tour package. AccessAmerica is one online agent, who can book policies (from about $60 and up) one day in advance. Plus, their packages pay $150 per person, per day, for accommodation/food reimbursement in case of overnight delays at airports – something you won't get from the airlines.
Before you go to the airport
Check and re-check flight times. It's just like your momma used to say. Well, that's one smart momma. Check your airline's site, or fly.faa.gov for real-time delay information. One good mobile app you might like is FlightBoard, with five-minute updates on flight times of over 4000 airports. Handy in a pinch if you're looking for alternatives on other airlines in case of a cancellation.
Check-in online. Most airlines allow you to check-in 24 hours in advance online. Do it. If flights have been canceled before yours, there may be a scramble for seats. Ensure yours asap.
Change your flight dates? As storms come, and delays seem likely, many airlines waive change fees to help alleviate scenarios of stranded passengers clogging airport terminals. This is a concession from the airlines, who pocketed $1.7 billion in change fees last year! So if Uncle Greg can wait to see you, consider delaying your trip, for free (for a change).
Pack right. Speaking of fees, bringing a lone carry-on bag will save you from many airlines' baggage fees, and allow you versatility in case of being pushed to another airline at the last second, or access to your belongings in an airport when stranded. I'm sure some of those stranded at JFK for over 24 hours recently would have liked their toothbrush.
Pack a sandwich. If flights do get canceled, lines quickly build at food courts. I heard of an over two-hour wait for KFC at JFK recently. Have a sandwich ready. Probably better than the airline's food anyway.
Write down airline numbers. If there is a delay or cancellation, save yourself a step by writing down toll-free contact numbers in advance.
Delayed/Canceled at the airport
Despite all your efforts, it happened. What to do?
Get info. It's not as easy as it should be. Beat the scramble for information, by looking at monitors for other airlines' status, or using Flight Board app mentioned above, while calling your airline's agent to find out about a switch to another flight, or airline. Once you know alternatives, get into line to speak with an airline rep. The key here is talking to a person.
Try Twitter. Some airlines respond to Tweets from the airport in such scenarios – this New York Times article notes how some got rebooked in a flash via Twitter, while others found overwhelmed airline staff could offer little to no help. Try.
Know the '240.' Airlines are not required to offer food or shelter in case of an overnight delay (unlike, technically, EU airlines or any flights in the EU), unless the airline is to blame. If your flight's delayed or canceled, check to see if other airlines' show similar delays. If not, it could be an indication of a mechanical issue your airline is dealing with – ie your airline is to blame (information not always volunteered). If so, the mysterious and misunderstood 'rule 240' (de-mystified here by Peter Greenberg) can be used to get you on the next available flight of any airline. No matter the scenario, it's worth being nice, name-dropping the '240' (some staff will be shocked you know it), and ask if there's any way to switch to another airline.
[Phot: Airport line by Mary-Lynn]
-------------------------------------------------------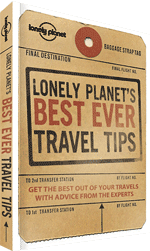 For more insights on travel short-cuts in a handy pocket-sized format, get Lonely Planet's Best Ever Travel Tips.
Sign up for our weekly newsletter
Get more travel inspiration, tips and exclusive offers sent straight to your inbox