What to do in Baku: highlights of 2012's Eurovision host city
All eyes will be on Azerbaijan's capital, Baku, when Europe's glitziest musical extravaganza sashays into town. But what should you see, eat and drink if you're in Baku for the Eurovision Song Contest (www.eurovision.tv)? The travel experts behind the forthcoming edition of Lonely Planet's Georgia, Armenia & Azerbaijan travel guide have all the answers.
See
Baku is a massive and increasingly futuristic city. Dubbed the Crystal Hall, the controversial venue for the Eurovision Song Contest has been specially built on land reclaimed from the Caspian Sea in the shadow of what was until very recently the world's tallest flag mast. Some stunning new architectural masterpieces are nearing completion including the trio of sinuous 80-storey skyscrapers known as the Flame Towers, and Zaha Hadid's extraordinary new Heydar Aliyev Cultural Centre which looks like a cross between a space station and a gigantic science-fiction snail. In the city centre, the century old stone mansions from Baku's first oil boom have all been meticulously cleaned and fitted with up-lighting so they look especially alluring at night. But as ever the main tourist attractions are in the walled medieval Old City whose plethora of mini boutique hotels make it one of the relatively few UNESCO World Heritage Sites that you can actually sleep in.
Maiden's Tower: this tapering, possibly millennia old, 29m stone tower is Baku's foremost architectural icon. The Azeri name, Qız Qalası, is usually rendered 'maiden's tower' in English, leading to plenty of patently fictitious fairy tales. A popular version has a wealthy ruler falling in love with his own daughter. He asks the girl to marry him. Revolted by the thought of incest but unable to disobey her father she stalls, commanding that he build her a tower high enough to survey the full extent of his domain before she decides. When it's finally complete she climbs to the roof and throws herself off.
A better translation of Qız Qalası would be 'virgin tower', alluding to military impenetrability rather than any association with tragic females. The highlight of a visit is the rooftop viewpoint surveying Baku Bay and the Old City.
Palace of the Shirvanshahs: this sandstone palace complex was the seat of northeastern Azerbaijan's ruling dynasty during the Middle Ages. Mostly 15th century in essence, it was painstakingly (over)restored in 2003. Enter via the main ceremonial courtyard. A small gateway on the left leads into the courtyard of the 1428 Divan Xanә, an open-sided, octagonal rotunda where Shirvanshah Khalilullah I once assembled his court: a decidedly small court it would seem, judging from the structure's diminutive size.
Eat
Baku is a culinary treat, but prices in top restaurants are equal to any in Western Europe, and you'd be wise to always check before ordering a cup of tea or coffee which, in the most extreme cases, might add AZN30 to the bill! Fortunately there are plenty of bargains to seek out, and if you want to save money many very good midrange restaurants offer bargain lunch menus from Monday to Friday.
Çinar (www.chinar-dining.com): at the foot of the funicular, this fashion-conscious lounge-restaurant sports a 'theatre kitchen' producing imaginative Asian-fusion food, including designer sushi (try the mackerel with olive and pine nuts). There's a hip cocktail bar and a plush garden area with lime-green sofa seats shaded with white drapes. An extraordinary range of exotic teas (AZN5) is served in artistically sculpted pots.
Muğam Club: historic two-storey caravanserai with stone alcoves and a colourful coverable courtyard complete with two dwarf fig trees. Except on Sundays, dinners are accompanied by an impressive cabaret showcasing various Caucasian musical and dance styles. The Azeri food is excellent but prices can be exorbitant.
Cafe City (www.cafecity.az): fashion-conscious without pretentions, Cafe City adds tasteful carved screenwork to two elegant Baku buildings. The picture menu offers a mouthwatering array of international cuisine; there's an AZN8 weekday lunch deal and a regional 'cuisine of the month'.
Yeni Bәh Bәh Club (www.bah-bahclub.com). Kilims on walls, heavy wooden tables and costumed waiters serving up an excellent selection of regional food including sac (sizzler roast) dishes, Şәki dolma (miniature dolma served in a clay pot) and lәvәngi (Talysh stuffed chicken). The live music is low key.
Drink
Stroll along the bulvar on a warm evening and you'll find countless cafes. The cheapest serve tea/beer from AZN2/1 but always double-check prices as variation can be enormous. Central Baku's suave coffee houses rarely charge less than AZN3/4 for an espresso/cappuccino or AZN5 for one of those scrumptious cake slices to accompany it. There are many expat bars in the centre, especially west of Fountains Sq between Tolstoy and Әlizadә streets. Plush new lounge bars and superexpensive tea parlours are scattered far more widely out into the suburbs.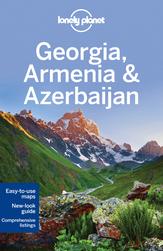 Otto (Facebook page): the beer tap is a saxophone, the walls are bare stone vaults and the big windows slide open to allow a cooling through draught. Live rock music from 10.30pm nightly.
Garaj: expat pub decorated with tool kits, graffiti wallscapes and a car chassis flying through the ceiling. The stand-and-drink tables outside catch evening sunshine.
Brewery: Baku's brew-pub creates three varieties of very acceptable ale, served in a stone-vaulted basement with heavy wooden furniture. Germanic meals and pricey beer snacks are available.