Western Australia's wildflower season
Western Australia is vast, and lots of it is rough, dry country in heavy reds, oranges and browns. So when the rains come in July and August and the countryside explodes into a vivid carpet of wildflowers, the West is one wild place to be.
There are 8000 species of wildflower in Australia's western state, ranging from tiny crimson myrtles and purple and white smokebush flowers through to fiery, prickly mountain bells. Many of that number are unique to the southwest region.
Where to go?
The further you travel north, the earlier the flowers tend to bloom.
Perth has a Wildflower Festival that runs from late September to early October, with displays, workshops and guided walks in Kings Park and the Botanic Gardens.
One of the best places to see the carpet of wildflowers is in the Midlands area north of Perth. There's prime viewing off the three roads running roughly parallel towards Geraldton. Everlasting daisies, kangaroo paws, foxgloves, wattles, featherflowers, banksias and the gorgeous low-lying wreath Leschenaultia blanket the countryside.
Coastal national parks such as Fitzgerald River and Kalbarri have brilliant displays, or you could try out the gorgeous scenic drive through the remote biodiversity hot spot of Lesueur National Park, about 200km north of Perth. About 10% of WA's plant species are found here.
The flat and sandy plains of the Stirling Range National Park change colour from blues and reds to purples, starting in late August and going right through to early December. The Stirling Range is known for its Queen of Sheba orchids and Stirling Bells.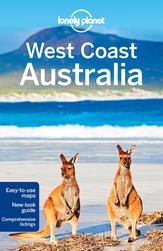 Further information
Want more detail on how to get the best of the western wildflowers? Download our Walking in Western Australia chapter.