Camping on Australia's Great Barrier Reef
The Great Barrier Reef is one of Australia's World Heritage areas and one of nature's richest realms. Stretching over 2000km (1242 mi) from just below the tropic of Capricorn (near Gladstone) to just south of Papua New Guinea, it is the most extensive reef system in the world, and made entirely of living organisms.
Pitching a tent on an island is a unique and affordable way to experience the Great Barrier Reef. Here are our top camping picks as selected by the authors of Queensland & the Great Barrier Reef.
1. Whitsunday Islands
Image of Whitsunday Island by dany13
Nearly a dozen beautifully sited camping areas, scattered on the islands of Hook, Whitsunday and Henning. The second largest of the Whitsundays, 53-sq-km Hook Island is predominantly national park and rises to 450m at Hook Peak. There are a number of good beaches dotted around the island, and Hook boasts some of the best diving and snorkelling locations in the Whitsundays. The resort itself is a no-frills, budget place.
2. Capricornia Cays
Camping available on three separate coral cays including Masthead Island, North West Island and Lady Musgrave Island – a fantastic, uninhabited island that's limited to a maximum 40 campers.
Image of Lady Musgrave Island by pbutke
Wannabe castaways look no further – Lady Musgrave is the perfect desert island! This tiny 15-hectare cay 100km northeast of Bundaberg sits on the western rim of a stunning, turquoise-blue reef lagoon renowned for its safe swimming, snorkelling and diving. A white-sand beach fringes a dense canopy of pisonia forest brimming with roosting birdlife, including terns, shearwaters and white-capped noddies. Birds nest from October to April, while green turtles nest from November to February. Numbers are limited to 40 at any one time, so apply well ahead for a permit.
3. Dunk Island
Image of Dunk Island by jikatu
Equal parts resort and national park with good swimming, kayaking and hiking. The water surrounding Dunk Island seems too blue to be true. It's the first thing you notice when you step off the ferry and onto the long jetty. As you make your way to terra firma and peer over the edge of the old wooden structure, myriad fish swarm below as if they take it upon themselves to be the island's unofficial welcoming party (and also offer fantastic fishing). Whether you're a resort guest or a day tripper, Dunk is pretty much your ideal tropical island. (Nb. Dunk Island was severely battered by Cyclone Yasi in February 2011 and the resort was closed. It's likely that there will be no regular day trips out to the island until the resort reopens – scheduled for April 2012 - call ahead to check.
4. Fitzroy Island
Image of Fitzroy Island by pbutke
Resort and national park with short walking trails through bush and coral just off the beaches. A steep mountaintop rising from the sea, Fitzroy Island has coral-strewn beaches, woodlands and walking tracks, camping and a flash refurbished resort. the island is a national park, with the resort occupying a small portion. The most popular snorkelling spot is around the rocks at Nudey Beach (1.2km from the resort), which, despite its name, is not clothing-optional, so bring your togs. On the island there are two walking tracks where you should spot some of the island's resident birds and butterflies. The 20-minute Secret Garden Walk is a leisurely stroll through rainforest that returns along the same path. The hour-long Lighthouse & Summit Trail leaves from the northern end of Welcome Bay and heads steeply up to the lighthouse. From here there are views to Little Fitzroy Island below. You can pitch a tent at the Fitzroy Island Camping Ground, run by Cairns Regional Council. It has showers, toilets and barbecues.
5. Frankland Islands
Coral-fringed island with white-sand beaches off Cairns. If the idea of hanging out on one of five uninhabited coral-fringed islands with excellent snorkelling and stunning white sandy beaches appeals – and if not, why not? – cruise out to the Frankland Group National Park. These continental islands consist of High Island to the north and four smaller islands to the south: Normanby, Mabel, Round and Russell. Camping is available on High or Russell Islands, which both feature rainforest areas. Numbers are limited on Russell where camping is only permitted on weekdays outside peak season. Camping on Russell is free but permits must be obtained in advance from the DERM office in Cairns. Book online for High Island ($5.15 per person).
6. Lizard Island
Image of Lizard Island by gruntzooki
Stunning beaches, magnificent coral and abundant wildlife, but generally you must arrive by plane. The spectacular islands of the Lizard Island Group are clustered just 27km off the coast about 100km from Cooktown. Lizard Island is a continental island with a dry, rocky and mountainous terrain offering bushwalking, glistening white swimming beaches, and a relatively untouched fringing reef for snorkelling and diving. Apart from the ground where the luxury resort stands, the entire island is national park, so it's open to anyone who makes the effort to get here.
7. Orpheus Island
Secluded island (accessible by air) with pretty tropical forest and superb fringing reef. The traditional land of the Manbarra Aboriginal people, secluded Orpheus Island lies about 25km off the coast near Ingham. Only 11km long and about 1km wide, Orpheus is the second largest of the Palm Islands Group. There are 10 other islands in the group; apart from Orpheus and nearby council-run Pelorus, all of the islands are Aboriginal communities with restricted access. Orpheus is mostly national park, protecting macaranga trees, with their huge heartshaped leaves, and eucalypts standing on a foundation of volcanic rocks. However, it's the magnificent fringing reef that is the main attraction here.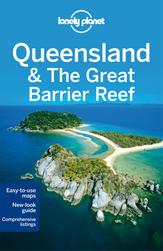 How to:
Wherever you stay, you'll need to be self-sufficient, bringing your own food and drinking water (5 litres per day per person is recommended). Weather can often prevent planned pickups, so have enough supplies to last an extra three or four days in case you get stranded. Fires are banned so you'll need a gas stove or similar. You'll need to reserve campsites well in advance. National park camping permits can be reserved online through QPWS.