The Great Barrier Reef: planning the perfect trip
I've explored some of the world's great underwater reefs: the barrier reef off Belize (the world's second-longest barrier reef), Ningaloo Reef (off Western Australia) and coral reefs in the Andaman and Red Seas. But I was astounded by the profusion of fish and rich coral life of Australia's Great Barrier Reef.
Nothing quite compares to the spectacular biodiversity here.
Stretching some 2300km along the east coast of Queensland, from just below the Tropic of Capricorn to the edge of Papua New Guinea, the Great Barrier Reef is a vast underwater wonderland, home to over 1500 fish species and hundreds of types of coral, sponges and molluscs. With more than 2900 individual reefs, the Great Barrier Reef is vast – bigger than England, Scotland and Wales combined.
Given its massive size, planning a trip to this colourful undersea kingdom can be daunting. Most visitors go out on daytrips from bustling Cairns, but there are many other gateways. Here's a round-up of our top ways to see the reef.
Port Douglas
An hour's drive north of Cairns, Port Douglas is a laid-back beach town that offers snorkelling and diving trips out to more than a dozen sites in the area. Be sure to book a trip to the outer reefs, which tend to be more pristine than those closer to the mainland.
A top destination here is the Agincourt Reefs, a reef complex with sites like Barracuda Bommie, Castle Rock and Helms Deep - collectively home to rich coral gardens, giant clams, schooling barracudas and abundant fish life. Top-rated boat operators like Poseidon and Quicksilver offer all-day trips taking in three different sites.
Lizard Island
Further north, and some 27km off the coast (and 100km from Cooktown), this 1000-hectare national park has 24 sensational white-sand beaches, crystal-clear waters and magnificent coral surrounding the island. Snorkelling is superb, and easily done by simply wading out from the beach.
Here divers can arrange trips to two of Australia's best dive sites, Cod Hole and Pixie Bommie. There are just two options for staying on the island: bush camping (permits available from www.derm.qld.gov.au) or the five-star Lizard Island Resort. Hinterland Aviation offers charter flights to the island from Cairns.
The Whitsundays
The 74 islands of the Whitsundays are fodder for glossy travel brochures: turquoise waters, coral gardens, palm-fringed beaches and bushwalks through national parks. There are loads of options for reef-exploring here: you can base yourself on Hook Island, where you'll find some of the best diving and snorkelling in the Whitsundays; get the full resort experience on Hayman or Lindeman Islands; or stay on mainland Airlie Beach and visit different islands on daytrips. Multi-day sailing trips offered by outfits like Southern Cross are a fine way to explore far-flung corners of the Whitsundays and the reef.
Lady Elliot Island
On the southern frontier of the Great Barrier Reef, Lady Elliot Island is a tiny, 40-hectare coral-ringed cay with an outstanding underwater landscape. Divers and snorkellers can walk straight off the beach to explore coral gardens, bommies, blowholes and colourful marine life (manta rays abound), and you can arrange glass-bottomed boat tours. Nesting sea turtles and tropical seabirds are also spotted on the island. The only place to stay is the no-frills Lady Elliot Island Resort with basic tent cabins; access the island by light aircraft, arranged through the resort.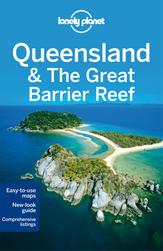 Townsville
Townsville, Australia's self-described largest tropical city, isn't the obvious choice when it comes to reef trips - mostly because it's a longer haul to reach the outer reef from here (2.5 hours by boat). That said, it has some exceptional draws: Australia's best wreck dive, the coral-surrounded SS Yongala, is 90km away; and multi-day, live-aboard dive boats depart from here, exploring sites visited rarely seen by other divers. Adrenaline Dive offers both daytrips and live-aboard trips.
Lonely Planet author Regis St Louis is researching the Queensland & Great Barrier Reef guidebook.