Mayfield Garden Spring Festival Entry
Sightseeing Tickets & Passes in Australia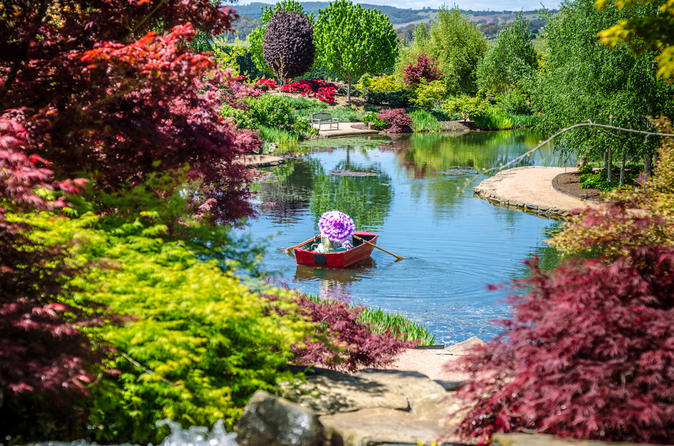 Image by Viator
Information from Viator
Tour description
Mayfield is one of the world's largest, privately owned cool climate gardens. Mayfield Garden opens 363 days of the year (excluding 25 & 26 December). During Spring and Autumn, the Hawkins' Family opens their private garden (50 hectares) to the public to experience. Together with Mayfield Garden (over 15 hectares)  there is over 65 hectares of garden to visit during our Spring and Autumn Festivals. Surrounded by a 2020 hectare working farm, Mayfield offers the finest farm to table menu at the Mayfield Cafe and Produce store located within the garden centre.
The 50 hectare (124 acre) Hawkins' Family Garden extends beyond Mayfield Garden and is breathtaking in its design and expanse. Mayfield Garden is 15 hectares (36 acres) and the design has been inspired by the best gardens throughout Europe. As a result, 55 hectares (160 acres) of the garden are now open for your enjoyment during Spring Festival. The garden is visited on foot at your own pace. 
Some of the major features includes: 
The English maze
The 80  metre cascade and waterfall
The Walled Kitchen Garden
Mayfield Chapel
Croquet Court
Mayfield Amphitheatre
Rowing boats on Mayfield Lake
Whilst the 15 hectare Mayfield Garden is open 363 days of the year (closed 25 & 26 December), the Hawkins family opens their private garden to visitors during seasonal festival periods.
THE SPRING FESTIVAL 
A complimentary shuttle bus and garden tour operates continuously throughout the Spring Festival, doing a loop of the garden, with multiple drop-off/pick-up stops along the way.
We recommend arriving when we open at 9am, and give yourself a minimum of 4 hours during the Spring Festival. Last garden entry is 3pm. The garden closes at 4:30pm.
WHAT TO BRINGWe recommend wearing closed walking shoes and dressing for the weather which might mean bringing a hat, sunscreen, insect repellent, and an umbrella. Being located in the tablelands a sweater or jacket is recommended year-round. 
WHAT TO EATMayfield Cafe is open from 9 AM, serving our fresh, farm-to-table seasonal menu until 3 PM, and coffee, tea, the bar, and snacks open until 4:30 PM. Mayfield Café offers takeaway options that you may enjoy in Mayfield Garden. There are no bins within the garden areas. Help keep Mayfield beautiful and return all rubbish to the Café and Nursery areas for recycling or disposal.
What's included
Entry to The Hawkins' Family Garden & Mayfield Garden Complimentary Parking
What's not included
Food and drinks
Transportation to/from Mayfield Garden
---