Sometimes the real star of a movie is the setting itself. Richard Linklater's Before Sunrise pretty much sells Vienna for anyone who thought of just passing through. Alfred Hitchcock's Vertigo is practically a San Francisco postcard of the late '50s. Woody Allen's Manhattan does the same for New York, and in timeless black-and-white.
And those are just some of the good movies.
This year, two Oscar contenders for best picture are already changing movie-goers' travel plans: The Descendants does for Hawaii, what Woody Allen's Midnight in Paris does for the City of Light's literary past.
Desintation-wise, which do you think wins the Oscar for best destination? Here's the case each movie makes - cast your vote below:
The Descendants in Hawaii
George Clooney's Matt King memorably clumps in his thongs through the lovely Nu'uanu neighborhood in the Honolulu hills; crucial beach scenes are done at famous Waikiki on the island of Oahu. But the heart of the movie is all Kaua'i, the quieter, smaller, more rural island of nearly empty beaches and lush mountains that many visitors and locals dub the 'real Hawaii.'
Here are a few places to follow Clooney's character.
Where to sleep
Clooney jogs past cottages on Hanalei Beach, one of the world's most beautiful. Our favorite kitchenette cottages here include the Hanalei Surfboard House, a white picket fence place with an 'Elvis' and 'cowgirl' theme ($250 a night). At Hanalei Dolphin Cottages, you can launch a kayak or stand-up paddle board from the backyard ($200 a night).
Where to eat & drink
Clooney takes his daughters, and meets Beau Bridges, at a Hanalei institution, the wood-shack Tahiti Nui, which opened in 1964 and is best known for its dive-bar cocktails and luau scene. It's touristy, but still captures the local feel and you have to do it.
The private paradise
Clooney anguishes in the film over the sale of a long-standing family paradise ranch to carve into condos. The place is real. Just south of Lihue airport in the island's southwest corner, Kipu Ranch was, like the movie, once the sole property of Hawaii's royal family. You can visit, even camp there. The easiest way to see it is by ATV on Kipu Tours including visits to film sites (Indiana Jones has made his way here too), waterfalls and the secluded beach.

Mud-spattered ATV exploring Kipu Ranch (Photo: Micah Wright, Lonely Planet Images)
What should have been in the movie
A hike: a Kaua'i staple. Not far from Kipu Ranch, the Maha'ulepu Heritage Trail is a stunning four-mile hike along the rugged coast between a string of velvety sand beaches (and rather choppy waters). While the hike from the Kalalau Lookout skirting along the rim of the canyon overlooking the Napali Coast offers one of Hawaii's most iconic views.
Homework
The film is based on Kaui Hart Hemmings' 'The Descendants,' which will make good, if obvious, beach reading. Otherwise, watch the 1958 movie version of the musical South Pacific, Jurassic Park and the opening shot of the Fantasy Island series – all filmed here.
Midnight in Paris in Paris
'You're in love with a fantasy,' Rachel McAdams' character tells Owen Wilson's Gil Pender early in the film. Well, aren't we all? And the great thing about chasing Paris of the '20s' (or Belle Epoque) is that it all pretty much lives side-by-side with the present.
Where to sleep
Owen and the gang go all out. Their luxe rooms were shot at the Hotel Bristol, whose 1925 opening attracted folks like Picasso and Salvador Dalí.
Real nerds can book room 14 at Hotel d'Angleterre, where Hemingway stayed his first night when moving to Paris in 1921. Nerd or not, it's a lovely 27-room hotel on a quiet street behind the École des Beaux Arts.
Where to eat
St-Germain's Restaurant Polidor, where Owen meets Ernest Hemingway, may get the biggest boost from the film. Open since 1845, it looks the same as the film, plus the real Ernest did indeed eat here.

Antique automobile in the Latin Quarter that might just be a magical transport into the past (Photo: Dan Gair, Lonely Planet Images)
Where to get lit
After his break up, Owen drops by to browse the English-language books at the Latin Quarter legend Shakespeare & Company, the same shop that opens Before Sunset. In WWII, Nazis shut down the first location (at 12 rue de l'Odeon), founded by Sylvia Beach – of whom, Hemingway claimed 'no one that I ever knew was nicer to me.' The 'new' location, open since 1951, is still a book-lovers' thrill, with a dusty library upstairs and cinema seats to sink into with one of the new or used books available.
Where to shop
Owen chats with a reappearing French woman about Cole Porter, whose 'Let's Do It' plays a big part of the film, at the wonderful St Ouen flea market, around since the 1800s and now numbering 2500 vendors. It's a good place for things old, perhaps even some of the flat-top boater hats you see the gents wearing at Café de la Paix in this 1920s travel reel.
The site of the film's surrealist wedding, where Owen gives a film idea to Luis Buñuel, is Deyrolle, a taxidermy shop open that has to be seen to be believed. Open since 1831, you'll find all things stuffed, for sale: storks, tiger, butterflies.
What should have been in the movie
The Auteuil Hippodrome racetrack. Horse races weighed heavily on Hemingway in his 'lost generation' days (evident in his simple description of Evan Shipman: 'He was a fine poet and he knew and cared about horses'). Hem's favorite horse track, the Auteiul, is a crumbling-yet-glorious grandstand dating from 1873. And one of our favorite alternate viewing spots for the Eiffel Tower.
Walking tour
Long-time expat in Paris John Baxter, the author of The Most Beautiful Walk in the World, offers literary-based walking tours from 100 euro per person.
Homework
Read Ernest Hemingway's terrific memoir, A Moveable Feast, essentially a guidebook to the movie.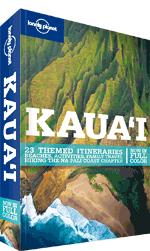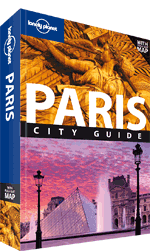 If you vote with The Descendants, find out more with Lonely Planet's Kaua'i travel guide; if Midnight in Paris is more your thing, grab our Paris city travel guide.