New York may have a hot dog cart on seemingly every corner, but Angelenos have long ridiculed kitchens on wheels as 'roach coaches', best relegated to construction sites, movie sets or dingy roadsides serving burgers and burritos to migrant day laborers.
How times have changed.
A food truck called Kogi debuted in Los Angeles in early 2009, combining high quality ingredients in Korean-Mexican fusion (as in the bulgogi – Korean grilled beef – taco). Kogi ('meat' in Korean) publicised guerrilla appearances of its fashionably designed truck via Twitter and attracted a flash mob following. "In our office we'd wait patiently for locations to be announced," says Rich Pedine, who works for a design public relations firm in West Hollywood, "then all pile in a car and speed off for the treats of the day."
Quicker than you can say "order up," those flash mobs turned into a cult, and the cult into a movement with gourmet trucks operated by chefs from up-and-comers to TV celebrities. Now some 190 food trucks roam the streets of America's second-largest metropolis; Kogi alone operates five.
Trucks cluster in office districts and hipster nightlife neighbourhoods from Venice Beach to Silver Lake, and no street fair, gallery opening or company picnic is complete without at least one food truck (visit individual websites, below, or www.mobimunch.com for detailed listings). Trendy patrons happily queue for up to 45 minutes to munch on dishes from tacos to ice cream. "I've met a bunch of fun people in line!" says Pedine.
Take a recent, ordinary Monday on an eight-lane-wide stretch of Olympic Boulevard near Bundy Drive in West Los Angeles. Two- to five-storey office buildings house film and television production offices, headquarters of internet TV and shopping sites, a car dealership and a gym. Yet the most of the action is streetside, where about a dozen trucks at two-hour parking meters might just as well have been a United Nations subcommittee on new world cuisine.

The Nom Nom Truck (Photo: Andrew Bender)
Office workers and leisure lunchers devour Vietnamese roast pork banh mi sandwiches from Nomnom. The bright yellow and green Ta Bom serves Brazilian specialties like pasteles (crisp pastries) of ground beef, cheese or banana, and the Hamburgao, a burger piled high with scrambled eggs, bacon, French-fried potato sticks, corn and more. Servers at Barbie's Q proffer samples of juicy grilled chicken and silky beef brisket, served either North Carolina-style or St. Louis style. Other offerings on the block include Italian, Lebanese, Peruvian-Japanese, and a truck serving both Singapore style shrimp and truffle fries. There is even a Kogi imitator, Calbi.

Menu at Barbie's Q (Photo: Andrew Bender)
Chef Dave Danhi is one of the food truck scene's biggest success stories. The co-owner, founder and – wait for it – big cheese of the Grilled Cheese Truck used to work in some of LA's busiest kitchens including the landmark Water Grill. Still, he says, "One of my loves is comfort food," although he never thought he could make a living at it until he entered LA's annual Grilled Cheese Invitational (Motto: "Bread-Butter-Cheese-Victory"). "90 minutes before the event even started, the line outside was a mile long and five people wide," he says, and he hit on what he calls "my stupid little idea" for a food truck specialising in grilled cheese sandwiches.
"We had 2500 followers on Twitter before I even had keys to a truck," Danhi says, and since then the Grilled Cheese Truck has been labelled the third most influential Tweeter in the city, after the Los Angeles Times and LA Weekly newspapers. Roughly 70 percent of his sales are Cheesy mac-n-rib, a sandwich of macaroni, pulled barbecue pork, caramelized onion and sharp cheddar. Danhi and colleagues go through a whopping six to eight pork shoulders per day.
Another top chef with a food truck – he's appeared on the TV series – is the telegenic, multi-tattooed Ludovic Lefebvre. His LudoTruck is a roving version of his LudoBites restaurant, one of LA's top 99 eateries. Yet lest anyone think food trucks are all fun and games, according to Lucy Lean, a judge for the TV show MasterChef (starring Gordon Ramsay), the one day she spent working aboard the LudoTruck was "one of the most stressful days of my life."
Ironically, perhaps there's no greater validation of the food trucks' success than the fact that some street chefs are now opening brick-and-mortar restaurants. Roy Choi of Kogi is now the executive chef at the counter-service Chego in West Los Angeles and fancy-hip A-Frame in Culver City.  Naturally, both are always packed.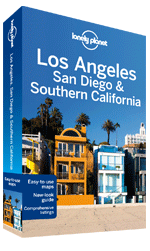 Get more travel tips to LA and SoCal in Lonely Planet's Los Angeles, San Diego & Southern California travel guide with new map designs, a new layout and awesome new planning tools.