Why do people go to the same restaurant more than once, sometimes ordering the exact same meal? Why have I seen Pulp Fiction 47 times? And why do we go to the same destinations more than once, even annually in some cases, when there are nearly a lifetime's worth of new places to visit?
Of course there's no simple, quantifiable answer, and even if there was, we humans are a finicky and diverse bunch, so the answers wouldn't be the same across the board anyway. We revisit places for the food, activities, culture, art, beaches, scenery (natural or human), lenient drug laws, religion, sloth, value, familiarity, convenience, bragging rights, pure awesomeness and to cash in on unsubtle, open invitations from attractive people with dreamy eyes and Latin accents.
Perhaps we're trying to recreate the singular (and probably unreproducible) first experience. Or maybe we want to get off the greatest-hits tourist highway and explore the back roads of subtler gratification? Maybe you lost all your photos when a monkey stole your camera and threw it in the river?
Generally speaking, the rule of diminishing returns means that, no matter how mind-bending your first visit might have been, it's highly unlikely that you'll come away equally fulfilled after a second visit. The first visit is all about the enduring discovery process and the oh-wow moments that make your head spin completely around several times. Even on your second trip to Mars, to reunite with the talking, winged hippo you met on the first trip, the same powerful sensation probably won't happen again. So, a theoretical second fulfilling visit is often fuelled by more nuanced experiences that don't require a chiropractic correction afterward.
Image of Romania by CamilG
What kind of places genuinely reward repeat visitors? For me, it's been Italy, Norway, Romania, Spain, Thailand and Myanmar (Burma), among others. With the exception of Norway, the sheer density of attractions and activities is what brings me back to these places for more (Norway simply falls under the 'pure awesomeness' classification).
My first trip to Myanmar was so moving and fascinating that I blew a permanent brain-hole.
Image of Burma by Mark Broadhead
My second trip, three years later, was entirely different. While it was still rewarding and unique, I wasn't so faint from dazzlement that I needed to be carried onto the plane when it was time to go home.
Again, it doesn't always have to be about the number of new brain-holes one acquires. For me, particularly in regards to cities, rewarding second visits are sometimes strictly about connecting to the place. I might establish which is 'my bar', identify the best strolling grounds, home in on where I can get the best deal on wine and, as is my way, start bemoaning the local irritants.
As I write this, I'm in Florence, Italy, a city I've visited repeatedly, usually just as a 1-2 day layover, but sometimes giving it a proper tour. I had the opposite experience with Florence to what most people have. The first time I visited, my expectations were impossibly high and I was, of course, disappointed. I've since identified the appeal that inspires so many people to visit the city over and over and, in the very small way we do with frequently visited places, I've made Florence my home away from home. I can (usually) confidently walk through the historic centre without a map. I have strong opinions about where to eat and sleep. I complain about the maddening scooter problem. I no longer allow the Florentines to smoke me at their beloved game of Sidewalk Chicken.
Then there are the places that I know won't be as rewarding (well, for me at least) the second time around. Places like Salzburg, Edinburgh, Luang Prabang and Essaouira in Morocco. While each place made my eyes dilate during my first visit, having thoroughly absorbed all the 'must-sees' and then some, in my opinion, there simply isn't enough depth and density of appeal for an equally fulfilling repeat visit. That said, the 46th time I saw Pulp Fiction almost certainly didn't imbue me with the same enjoyment as the first couple of viewings, yet I still watched it a 47th time, so I could be wrong.
What destinations have you deliberately visited more than once, for substantial tours, that were similarly rewarding the second time around and beyond?
Leif Pettersen has authored multiple guidebooks and articles for Lonely Planet. Read his article 'If cities had faces, we'd make out with these places'.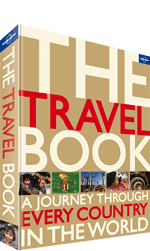 For help finding the destination that keeps you coming back, check out The Travel Book.