New York City's iconic hot dog carts are sharing increasingly crowded curbs with high-end food trucks dishing up Belgian waffles, Korean barbecue, gourmet whoopie pies and new interpretations of American classics. New York street food has evolved beyond the traditional $2 pizza slice, bagel with schmear or frankfurter, offering locals and travelers alike endless opportunities to explore new twists on American favorites, new cuisines from around the world, and experience New York's many diverse neighborhoods, from glitzy midtown to funkier downtown.
'There have been vendors on the streets of New York City since New York was part of New Amsterdam,' says David Weber, President of the New York City Food Truck Association (www.nycfoodtrucks.org). 'What makes New York City such an exciting and interesting place is its streets. CEOs walk on the streets. Janitors walk on the streets. All these different walks of life are here. It's a melting pot and the food trucks reflect this.'

Deborah Smith, owner of Green Pirate Juice Truck, whips up a 'Walk the Plank' that includes kale, cucumber, pineapple and spinach. Photo by Katrina Woznicki / Lonely Planet.
Food trucks showed that meals on wheels is more than a passing fad by proving pivotal in delivering hot food after Hurricane Sandy struck New York City in 2012. Working with Mayor Michael Bloomberg, more than 30 food trucks dispatched more than 260,000 meals throughout the hardest-hit neighborhoods, many in Brooklyn and Queens, during the weeks after the storm. The food trucks returned to provide Thanksgiving meals to devastated communities.
Food trucks also appeal to chefs as an outlet for creative culinary possibilities. 'The food truck scene is as vibrant and varied as the restaurant scene,' says Queens native and chef Rocco DiSpirito, TV personality and New York Times best-selling author of Now Eat This. 'Food trucks allow you tremendous freedom. It's a one-man show that you can run without a lot of outsider investors. It's a real authentic testament to who you are.'
As a tourist or a local you can easily grab three full meals and save room for dessert while exploring some of New York's iconic neighborhoods simply by jumping from truck to truck. Skip the worry of restaurant reservations and enjoy a full day of sightseeing with this suggested itinerary and menu:
Breakfast - Uptown
Begin a day with hot Belgian waffles topped with chocolate sauce and fresh fruit. At 8 am, Wafel and Dinges parks one of its bright yellow trucks at 113st Street and Broadway in Morningside Heights. For $5, enjoy a light, crispy 'Brussels Wafel,' or choose the heavier, chewier 'Liege Wafel.' Dinges are toppings ranging from Nutella to whipped cream to fruit, and carnivores can opt for'De Bacon + Syrup Wafel.'

Belgium native Erwin Vandenabeele serves up a hot waffle from the popular Wafles and Dinges truck. Photo by Katrina Woznicki / Lonely Planet.
Nearby is historic Columbia University, the beautiful Gothic cathedral Riverside Church built by John D. Rockefeller, and Riverside Park, covering four miles from 72nd to 158th Streets along the Hudson River, a great spot to walk off those calories and where locals enjoy jogging, biking and rollerblading.
Lunch - Midtown
Midtown teems with food trucks during the lunch hour, ready to wow office workers and tourists. Bistro Truck at 47th Street between Park and Madison Avenues serves delicious Mediterranean fare like lamb Marrakech and seafood pastilla for $10 each. Midweek, Korilla BBQ parks at 55th Street and Broadway and is connected to a line of people eager for its unique Korean twist on tacos, chosun bowels and burritos. Most dishes cost between $7-8.On 6th Avenue at 48th Street, Rickshaw Dumplings serves, well, dumplings made from chicken and Thai basil or vegetarian edamame, among others, along with miso soup and chili sesame noodle salad as sides.
Many of Manhattan's signature attractions are in Midtown. Despite Midtown being busy and noisy, you can enjoy a quiet lunch at one of the many small tables at nearby Bryant Park, a leafy respite with a view of the Empire State Building.

Hungry lunch-seekers reflect on what to have for lunch from a food truck dishing up Mexican cuisine. Photo by Katrina Woznicki / Lonely Planet.
Dinner - Downtown
Frites -n- Meats can be found on Greenwich Avenue in Tribeca grilling grass-fed Angus beef topped with the likes of gruyere, avocado and wasabi mayonnaise all ona brioche bun. Try the 'Italian Job' or 'Wild Thang' burger. Expect to spend about $8-$10 on your burger; Belgian frites are another $3. Run by a trio of Lebanese brothers who grew up in Queens, Frites -n- Meats was born out of a love for eclectic barbecue. 'We built a business around our favorite foods,' says co-owner Hiassam Atwi. 'We focus on doing one or two things very, very well. We would be cooking at home and think 'Yeah, we like this. Let's try it on the truck.' Our ingredients are locally-sourced. Our idea was to put out a simple product that's high quality.'
After a burger, walk around Greenwich Village where there are several specialty stores selling books, records (yes, records), vintage clothing, art and antiques, as well as gourmet and artisanal food shops.
Dessert - Union Square
Finish up with ice cream described by The Village Voice as a 'cross between Mister Softee and Mario Batali.' Big Gay Ice Cream Truck stations itself at Union Square Park on 17th Street and Broadway, from 2 to 8 pm. Union Square is a perfect spot to take a break, enjoy artisanal ice cream and people-watch, says Big Gay Ice Cream Truck Co-Owner Bryan Petroff.
'We like to embrace our environment,' says Petroff. 'Our menu items are inspired by the cultural experiences here in New York. The city is just a mix of cultures, history, back story and ingredients to choose from, like our ginger curry shake and wasabi or dulce de leche toppings.' Signature cones, like the Salty Pimp (vanilla ice cream with dulce de leche, chocolate and sea salt) and the Bea Arthur (vanilla ice cream, dulce de leche and crushed Nilla wafers) are hits among ice cream fans of all flavors.
Where else to find food trucks
Every third Sunday of the month from April to October, more than a dozen food trucks circle their wagons at Prospect Park in Brooklyn. Known as the Food Truck Rally, the monthly event draws often hundreds of visitors, and allows you to work your way through the trucks' menus while relaxing in one of Brooklyn's loveliest parks. Visit www.prospectpark.org or www.nycfoodtrucks.org to learn more.

Visitors flock to Brooklyn's Prospect Park for the Food Truck Rally. Photo by Katrina Woznicki / Lonely Planet.
To find out who's where and when, the trucks—many only in business a few years—provide daily and hourly updates of their whereabouts and menu changes via Twitter, Foursquare and Facebook, as well as post weekly schedules on their websites.
Katrina Woznicki lives in the New York City metro area and writes about travel and health. You can follow her musings on her blog, katrinawoznicki.com, or on Twitter at @katrinawoz.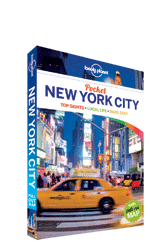 Keep your hands free for eating tasty food truck offerings with Lonely Planet's grease-resistant Pocket New York City travel guide.