When a buddy, a loved one, or one of your favourite residents on the Axis of Awesome is heading overseas, you want to say sayonara with a fittingly fabulous gift. But with all these killjoy 100ml restrictions and charges for excess baggage, that vintage coffee machine and a kilo of Ethiopia's finest might not be the most ideal gift.
So what are the perfect travel gifts? One member of our forum suggested travel-themed journals to collate memories of travels; another suggested a helicopter flight. But if you're still stumped, here are a few nifty gifts you could consider.
A cord organiser: Travel these days seems to involve an ever increasing number of cords for chargers, cameras, phones, laptops… If you don't keep them neat you can end up with something that looks like a macramé smackdown. The solution? A cord organiser. Keeps everything in place and you can charge with just one plug.
Binoculars with built-in camera: If your favourite traveller likes a bit of binocular action, imagine how much they'll love you for being able to capture those amazing, fleeting little sights with these camera-primed binoculars?
Travel candles: The perfect, pocket-sized gift for those who like to make the most of a manky motel. There's nothing worse than not being able to sleep for thinking 'what is that smell?' Make sure you find out your friend's favourite fragrance first. There may well be bacon-scented candles available, who can say?
A fine cashmere throw: Okay, this might sound more Martha Stewart than intrepid traveller, but when you're freezing on a long flight and you're trying to tuck one of those tea-towel-sized scratchy carrier-supplied blankets around you, something like this is cosiness gold - and they're fine enough to fold up and fit into your bag.
Noise-cancelling headphones: Banish engine roar or those Chatty Kathies in the seat next to you who see a 14-hour flight as an opportunity to perform the one-woman show of their life. These headphones will cocoon you in blissful silence or the music of your choice.
Travel/hotel voucher: Research the cities your loved one is heading to and arrange a rail or bus pass or a couple of nights at a hotel - maybe at the end for when they're travel-weary and all hostelled out.
Local experiences: Think cooking classes, a city garden tour or perhaps admission to a Q&A with their favourite director who just happens to be in town. Arrange a ticket for them - just make sure it doesn't intrude on their schedule too much.
Priority Pass Membership: You're killing time at the airport, feeling less than fresh, and you see people emerging from those swanky transit lounges looking all relaxed. Get your pal a Priority Pass card, giving them access to airport business class lounges regardless of what class flight they've booked.
A personalised care package: Whenever a friend or I would go overseas, we'd make a small care package for each other, only to be opened once the plane wheels had left the ground. They would generally consist of a letter, a mixed tape (I know, I know - make it a USB stick then), maybe some chocolate or a mini bottle of gin. It was the sweetest way to take off. Think about putting together something similar - it doesn't have to be much, as long as it's got that personal touch.
Of course, it would be remiss of us not to mention the Christmas-headache-eliminating gift sets available right here from Lonely Planet!
We think that there are few better presents for the traveller who has everything than our Pictorial & Gift sets, featuring the bestselling Travel Book and Best in Travel 2011.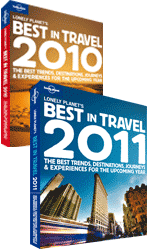 And for those who love a deal, check out our Special Offers page, where you'll find discounts on our most popular titles.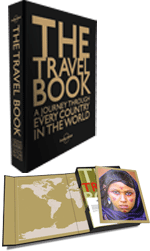 Do you have any travel gift recommendations? Share them in the comments below!