New York: from the looming skyscrapers and taxi-lined avenues to the graffiti-laden subways and packed streets, it is quintessentially urban.
Both literally and figuratively, New York City is miles away from green, rolling pasture and farmland. Or is it? The farm-to-table movement is strong here, with local, organic and sustainable cooking promoted in markets and restaurants across the city, and more and more chefs are sourcing fresh ingredients from the region's organic farmers to create amazingly diverse and seasonal food that connects urban dining to a rural philosophy.
For breakfast or lunch, dinner – or that all-important NYC tradition, brunch – here are some of our favourite New York City farm-to-table finds.
Breakfast: Cookshop
Located just below the High Line in New York's Chelsea neighbourhood, Cookshop (www.cookshopny.com) serves up American cuisine focused on seasonality using only local, sustainable ingredients and humanely raised animals. The interior is organic and simple, reflecting the kitchen's farm-to-table philosophy. Cookshop truly cares about what it's bringing to the table, and the menu is ripe with homemade eats – from house-cured Applewood smoked bacon to artisanal breads and pastries. Come for the kind of breakfast that will keep you full for hours (and hours and hours): the robust and creamy scrambled eggs with chives, caramelized onions, and smoked trout on a buttermilk biscuit is not to be missed, nor is the house-made maple, bourbon and cheddar sausage. If you're short on time, grab one of Cookshop's fine selection of flaky, sugary-sweet pastries (made in-house, of course) and some organic coffee – perfect for a takeaway breakfast picnic.
Brunch: ABC Kitchen
From powerhouse chef Jean-Georges Vongerichten comes the imaginative and over-the-top ABC Kitchen (www.abckitchennyc.com). Located in a department store (ABC Carpet & Home), the concept doesn't immediately evoke emerald hills and rolling pastures as much as Scandinavian couches; the interior is barnyard-chic, with recycled paper menus, salvaged wood tables and abundant wildflowers copiously presented. But once the local, artisanal food arrives, you won't care where you are with such creative dishes from regional farms so expertly executed. (Our tip: skip the pizzas and opt for the seafood paired with house-brewed sodas.) One bite of their seasonally inspired brunch and you'll quickly understand why it was named the best new restaurant in 2011 by the New York-based James Beard Foundation. Though it's a bit of a splurge and the location is admittedly odd, ABC Kitchen promises a memorable and inventive take on farm-to-table cuisine, from the heritage beets to the seasonal doughnuts.
Lunch: The Green Table
Tucked deep inside Chelsea Market's brick-lined covered alleys, The Green Table (www.cleaverco.com) dishes out inspired eats that support regional farms and the local food economy. A daily revolving menu is sourced from family farms, and their wine and beer list boasts a plethora of organic and biodynamic offerings. At this petite spot, the simplest ingredients pop – the grilled green beans, for instance, with toasted pine nuts, tomato and sherry vinaigrette are smoky and tart, full of fresh and clean flavours. While their chicken pot pie and macaroni and cheese garner loads of love from locals, their vegan farm plate sings with summer vegetables, brown rice and an addictive spicy sauce. Hop in to The Green Table after wandering the foodie-loving stalls of Chelsea Market and momentarily escape to New York's countryside farm stands with each bite.
Dinner: Blue Hill
Blue Hill (www.bluehillfarm.com) is perhaps the archetypal farm-to-table restaurant in New York. Opened in 2010, before the movement was in vogue, this Greenwich Village legend is hidden in a landmarked former speakeasy just off Washington Square Park. As with all farm-to-table finds, the food here is local, sustainable and organic, and focused on American seasonal cuisine, from starters like Vegetables on a Fence to desserts such as apples from the Blue Hill Farm with milk, jam, ice cream and apple cider. Check out their 'Farmers Feast' for a five-course tasting menu inspired by the week's harvest. And if you're really feeling the farm-to-table vibe, you can visit Blue Hill's own farm, located just 45 minutes north of New York City.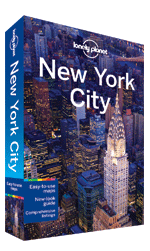 Feeling hungry yet? There's much more on New York's food scene in Lonely Planet's newest New York City guide book.
Don't need the whole book? Pick and choose your favourite PDF chapters for your next trip.