Where to hang out with Uganda's chimpanzees
Eyes trained on the canopy, the hunters slipped with speed and agility across the forest floor. Although communication was kept to a minimum everyone seemed certain of their role. Occasionally one of the party turned and shot a glance back at me, sweating and stumbling over branches and roots, far behind. Suddenly, a squeal of alarm reverberated through the forest. A docile group of beautiful colobus monkeys with coats the envy of a catwalk model had spotted the approaching hunting party.
A troop of chimps in Kibale Forest National Park, Uganda. Image by Stuart Butler.
As the colobus started to flee, pandemonium broke out on the forest floor. The hunters raced ahead, some hauled themselves up the trees and others gave chase from ground level. Screams and barks drowned out the bird song and deafened the insects. Things moved so fast over the next two minutes that I was unsure of what was happening. And then calm returned to the forest. The colobus had escaped and the frustrated hunters returned to the more leisurely pursuit of grooming one another. It was just another morning for the chimpanzees of Uganda's Kibale Forest National Park.
Close-up of a chimp in Kibale Forest National Park, Uganda. Image by Stuart Butler.
Uganda's biggest tourist draw is of course the mountain gorillas, but these aren't the country's only great apes. Humankind's closest relative, the chimpanzee, is found in a number of areas of Uganda. Some of these groups have been habituated to human contact in the same way as the gorillas, and although their more energetic lifestyle and unpredictable nature makes them slightly less approachable, there's no doubt that hanging out with chimps is one of life's great experiences.
A chimp's foot dangling from a branch in Kibale Forest National Park, Uganda. Image by Stuart Butler.
At Kibale Forest National Park (more information - www.ugandawildlife.org) visitors can join daily chimp-tracking walks. These normally last around three hours with a maximum of one hour spent with the chimps. Or, for those who want a more in-depth, personal immersion (group size is strictly limited), you can arrive at the park's visitor centre in the pre-dawn gloom to set out on the Chimpanzee Habituation Experience. This guarantees a full day with the chimps; tracking them as they crash through the undergrowth or swing through the tree tops, dozing as they doze and, if you're very lucky, feeling your heart race in excitement as the apparently playful chimps turn determined killers on the hunt for monkeys.
A chimp covering its eyes in Kibale Forest National Park, Uganda. Image by Stuart Butler.
Kibale might be the most popular place in Uganda in which to view chimps but it's far from the only option. For alternative chimp experiences check out these other parks and reserves: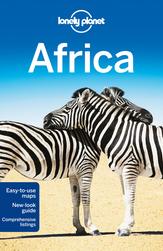 Stuart Butler is a Lonely Planet author, writer and photographer specialising in East and Central Africa. His best African experiences involved sleeping in Maasai and Samburu manyattas, and the one he'd least like to repeat was eating dog food in the Congo! He tweets at @StuartButler2.