Destination at a glance: Mali
If you could only visit one country in West Africa, Mali would be a prime candidate. Few countries in the region can boast such an array of sights, from fabled Timbuktu and the mysterious Dogon Country to riverside mosques that seem to spring from a child's imagination. Adding considerable depth to these attractions is Mali's illustrious history, a story of ancient gold-rich empires along the Sahara's southern fringe that has yielded to a stable West African democracy famed for the largely peaceful coexistence of its multifarious ethnic groups. And accompanying you on your journey through the country will be Mali's world-famous musical soundtrack, a beguiling playlist of soulful desert blues, ancient griot tunes and frenetic dance rhythms.
BEST TIME TO VISIT
October to February (before the heat, after the rains)
TOP THINGS TO SEE
• Djenné's breathtaking Grand Mosque and colourful Monday market
• The legendary (yet humble) city of Timbuktu crouching amid the Saharan sands
• Bamako's live music venues where Mali's master musicians play
• The sleepy riverside town of Ségou with its wonderful music festival and bogolan (mud cloth) workshops
• The deliciously remote city of Gao, with sunset views from a towering riverside dune
TOP THINGS TO DO
• Trek down off the Bandiagara Escarpment and into the timeless villages of the Dogon Country
• Ride a camel out into the Sahara and spend a night in a Tuareg camp close to Timbuktu
• Travel on a slow boat up the Niger River from Mopti to Timbuktu
• Track down the Sahel's last elephants in northeastern Mali
• Dance under stars in the Festival in the Desert, the world's most remote music festival
GETTING UNDER THE SKIN
Read Ségu by Maryse Condé, a sweeping generational tale that captures the essence of Malian history and its ethnic groups
Listen to Tinariwen, Toumani Diabaté, Amadou and Mariam, the late Ali Farka Touré, Salif Keita, Oumou Sangaré…the list is endless
Watch Yeleen by Souleymane Cissé, which won the Special Jury Prize at Cannes in 1987
Eat capitaine (Nile Perch)
Drink bissap or djablani juice (brewed from hibiscus petals); Castel (Malian beer)
IN A WORD
Bonjour, ça va? (Hello, how are you?)
TRADEMARKS
Mud architecture; the Mali and Songhaï empires of the Middle Ages; the ancient manuscripts of Timbuktu; Bambara woodcarvings and bogolan cloth
RANDOM FACT
King Kankan Musa of the Mali Empire distributed so much gold en route to Mecca in the 14th century that it was a generation before the world gold price recovered.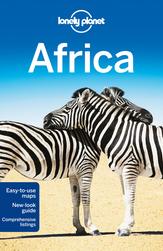 Celebrate the world with The Travel Book