Sep 8, 2010 8:39:37 PM
Roadtripping USA: the ultimate how-to
Note: Javascript is disabled in your browser.
To see the gallery in all its glory, you'll need to enable Javascript.
Maybe it's the economy, maybe it's the weather, or maybe retro travel is in vogue – whatever the reason, 2010 has been a strong year for the classic American travel experience: the long distance road trip.
Here at Lonely Planet, the US road trip has been very much on our mind this year as well, so we've pulled together some of the best articles from throughout the year for planning and inspiring your next American road adventure:
If you're looking for detailed trip itineraries, we've got those too. To celebrate the release of our new title USA's Best Trips: 99 Themed Itineraries Across America we've made 10 of the trip itineraries free as PDF downloads (available through Sept. 17th):
Route 66: Motoring the Mother Road
Pacific Northwest Grand Tour
New Jersey Diners: Open 24 Hours
Maine: 60 Lighthouses in 60 Hours
New Mexico: A Green Chile Adventure
Skyline Drive to the Blue Ridge Parkway
Alaska: Up the Inside Passage
Wet & Wild West Coast
Tripping Through Grand Teton & Yellowstone
Michigan: Lake Lovers' Trail
Download any of these itineraries from our Facebook page (anyone can download, you don't have to be a Facebook member) and hit the road!
---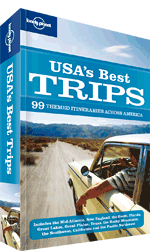 Summer may be winding down, but there are road trips for every season. Check out the new release USA's Best Trips: 99 Themed Itineraries Across America for the best of the US from classic trips to offbeat adventures.
Like this? Sign up to get our best articles by email