Jun 4, 2012 11:36:31 PM
The High Line: highlights and local tips on New York City's elevated park
Note: Javascript is disabled in your browser.
To see the gallery in all its glory, you'll need to enable Javascript.
In the early 1900s, the western area around the Meatpacking District and Chelsea was the largest industrial section of Manhattan, and a set of elevated tracks were created to move freight off the cluttered streets below. As NYC evolved, the rails eventually became obsolete, and in 1999 a plan was made to convert the scarring strands of metal into a unique elevated public green space. On June 9, 2009, part one of the city's most beloved urban renewal project opened with much ado, and it's been one of New York's star attractions ever since.
A Green Future
On a warm spring day in 2009, the High Line – full of blooming flowers and Kelly-green trees – opened to the public, the first of three planned phases that will one day link the Meatpacking District and Midtown. Section 1 starts at Gansevoort St and runs parallel to Tenth St up to West 20th St. Full of sitting space in various forms – from giant chaise lounges to bleacher-like benching – the first part quickly became the setting for various public works and activities, many geared towards the neighborhood's growing population of families.
Section 2 opened in June of 2011, adding another 10 blocks of green-ified tracks, and the final section will meander across the partially privately owned West Side Rail Yards up to 34th St in a U-like fashion. Negotiations for renovation are still under way and an official opening date has yet to be slated.
Art along the High Line phase 2. Photo by Karen Blumberg.
More than Just a Public Space
The High Line's civic influence extends far beyond being the trendsetter in the island's re-green-ification. As the West Village and Chelsea continue to embrace their new-found residential nature, the High Line is making a dedicated move towards becoming more than just a public place but an inspired meeting point for families and friends. As you walk along the High Line you'll find dedicated staffers wearing shirts with the signature double-H logo who can point you in the right direction or offer you additional
information about the converted rails. There are also myriad staffers behind the scenes organizing public art exhibitions and activity sessions for family and friends. Group tours for children can be organized on a variety of topics from the plantlife of the high-rise park to the area's history.
Strolling through canyons between buildings on the High Line. Photo by Luis Machado.
High Line Highlights
Robert Hammond, cofounder and executive director of Friends of the High Line, gave us his tips about what, in his opinion, makes the 'park in the sky' and its surrounding neighborhood so special:
'To me, the West Village is a reminder of New York's industrial past and residential future. What I love most about the High Line are its hidden moments, like at the Tenth Ave cut-out near 17th St, most people sit on the bleachers, but if you turn the other way you can see the Statue of Liberty far away in the harbor. Architecture buff s will love looking down 18th St, and up on 30th is my favorite moment – a steel cut-out where you can see the cars underneath.
Taking in the view of the streets below on the High Line. Photo by Dan Nguyen.
'For lunch near the High Line, I recommend Hector's Café & Diner (44 Little W 12th St). It's cheap, untouristy and not at all a see-and-be-seen spot – the cookies are great. If you're in the area, you have to visit the galleries in Chelsea – there are over 300, and check out Printed Matter with its artist-made books. Check out the Hôtel Americano in northern Chelsea – it's very up-and-coming. For an evening out on the town, head to the Boom Boom Room at the top of the Standard Hotel – go early and book ahead.
'The High Line is also great for children, with scheduled kids' programming on Saturdays and Wednesdays.'
Where to climb aboard the High Line:
Gansevoort St & Washington St
West 14th St near 10th Ave (with elevator access)
West 16th St near 10th Ave (with elevator access)
West 18th St near 10th Ave
West 20th St near 10th Ave
West 23rd St near 10th Ave (with elevator access)
West 26th St near 10th Ave
West 28th St near 10th Ave
West 30th St near 10th Ave (with elevator access)
Find out more, including upcoming events, at http://www.thehighline.org/
---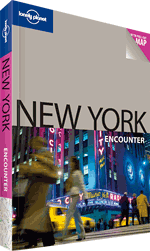 Take Lonely Planet's New York City tips with you in any format you need – book, app or ebook for your favourite device.
Like this? Sign up to get our best articles by email
New York City
Make it happen