Feb 2, 2011 9:31:14 PM
Bi-coastal battle: Los Angeles vs New York City
Note: Javascript is disabled in your browser.
To see the gallery in all its glory, you'll need to enable Javascript.
We recently did a San Francisco vs. New York City poll, due to the fact that Lonely Planet's US office is in the San Francisco Bay Area and our US Travel Editor, Robert Reid, is based in NYC. We got some feedback, though, that the REAL rivalry is between Los Angeles and New York City. So we called up our Los Angeles resident author, Andrew Bender, and asked his insight into the best of LA. We've forwarded his picks to Robert Reid, and we've pitted the two cities against each other. Once again, we ask you to be the deciding factor. Which city gets to walk away with the bragging rights in this bi-coastal battle: Los Angeles or New York City?
Have we missed anything? If so, let us know what you think should have been the contenders in the comments!
---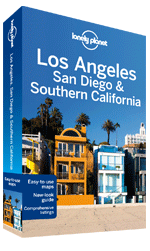 Get more travel tips to LA and SoCal in Lonely Planet's Los Angeles, San Diego & Southern California travel guide with new map designs, a new layout and awesome new planning tools.
Like this? Sign up to get our best articles by email
New York City
Make it happen