The Palmyra
Address
Apartment
7th Street
Isla Colon
Bocas del Toro
See nearby area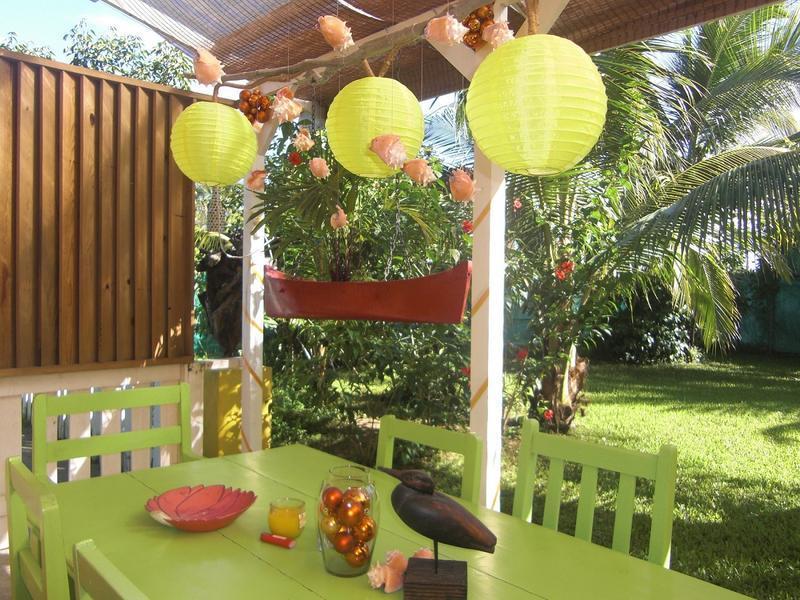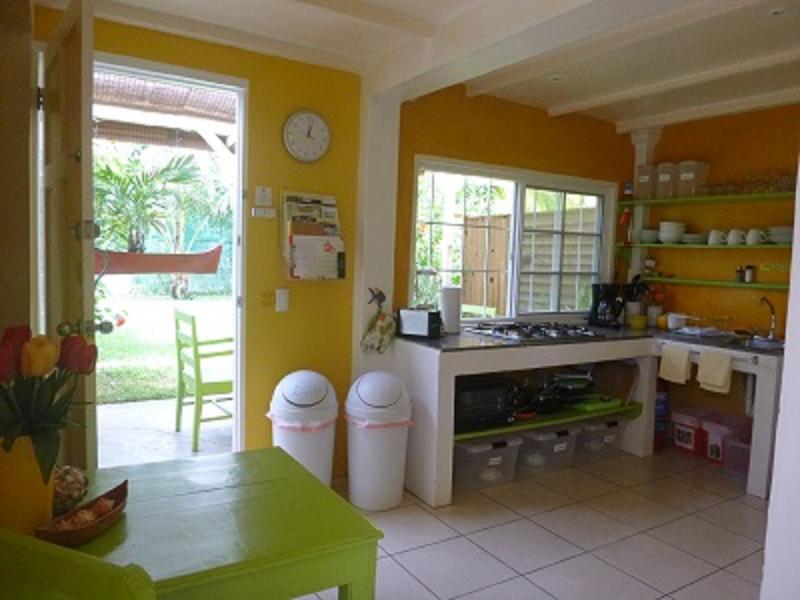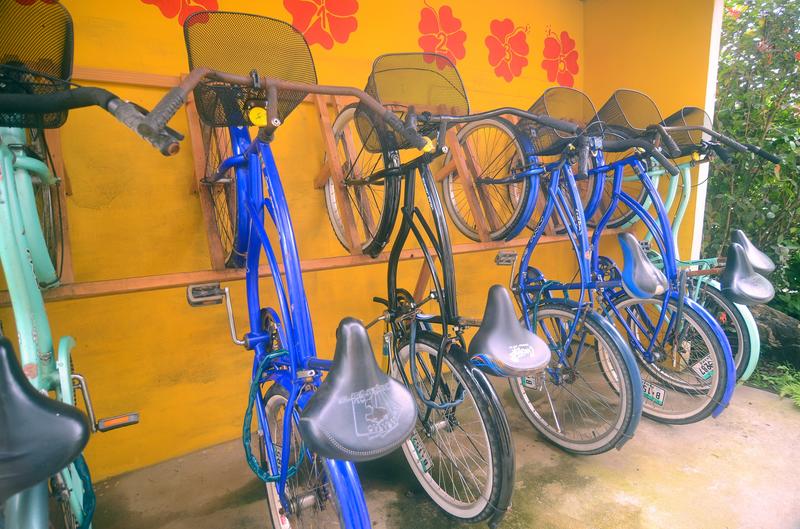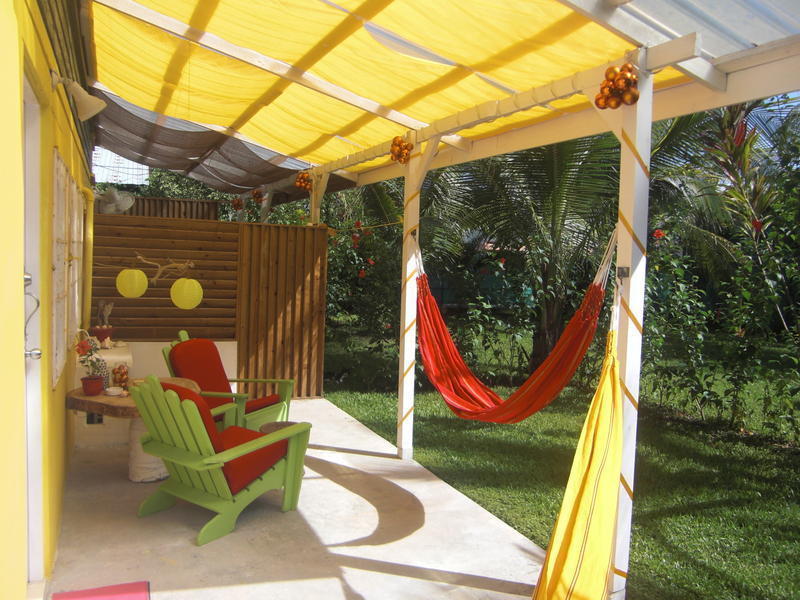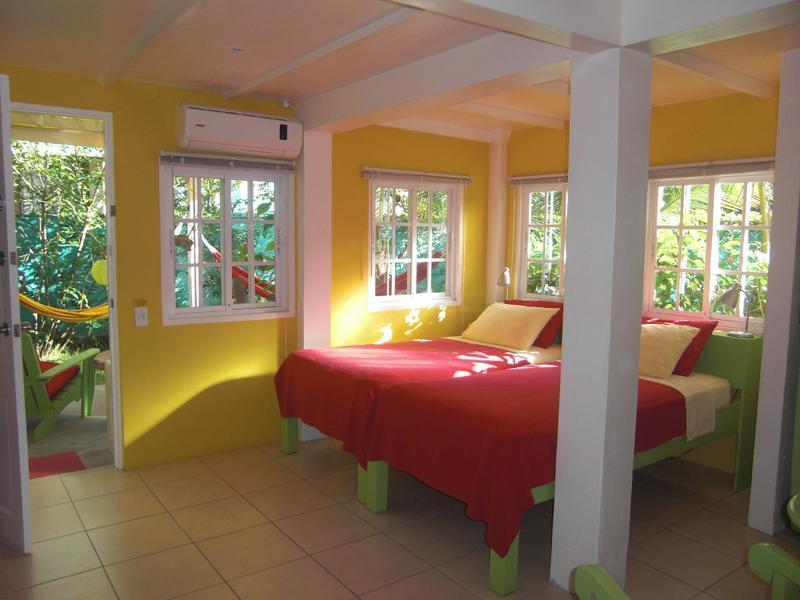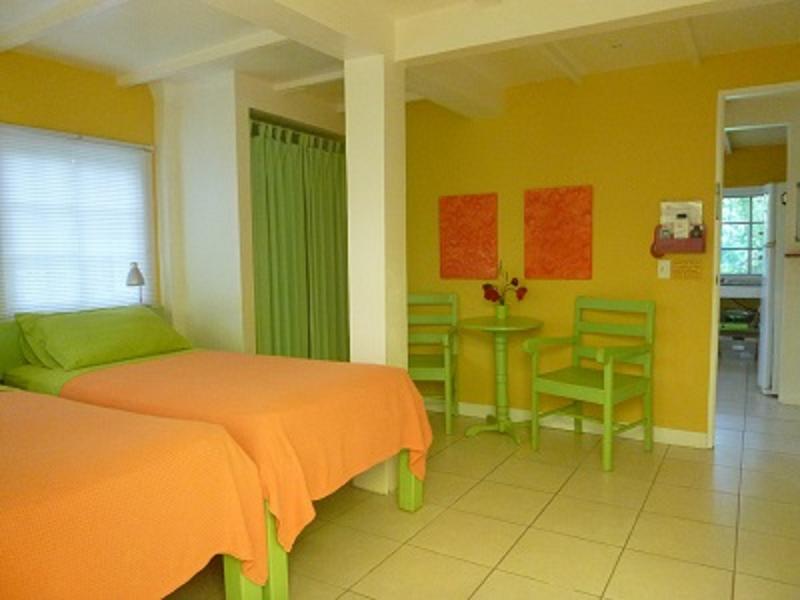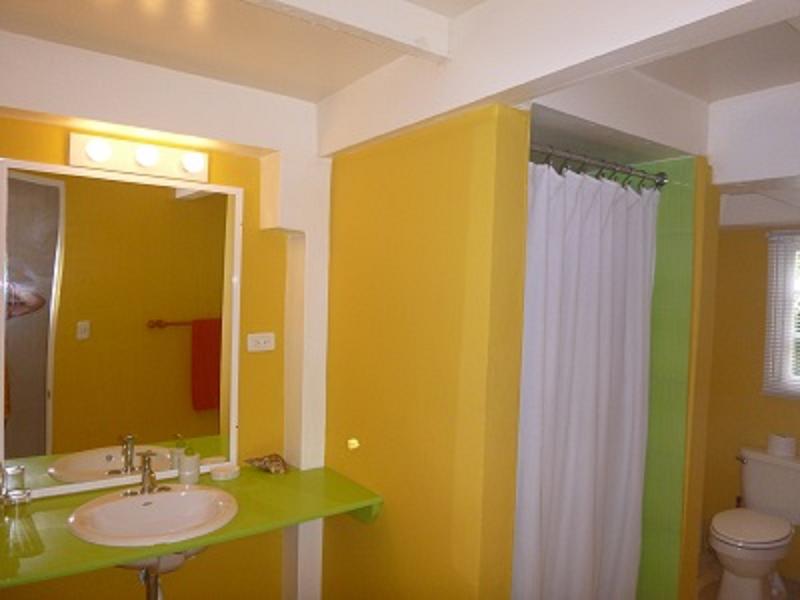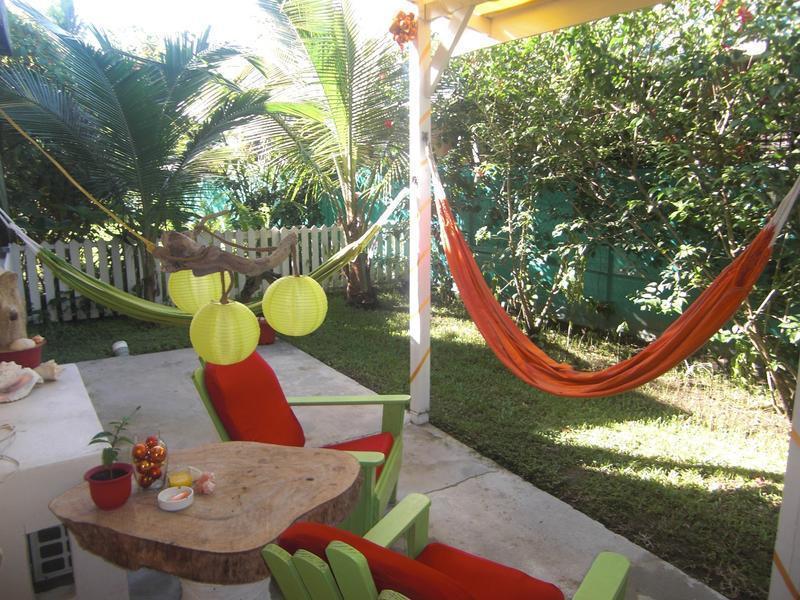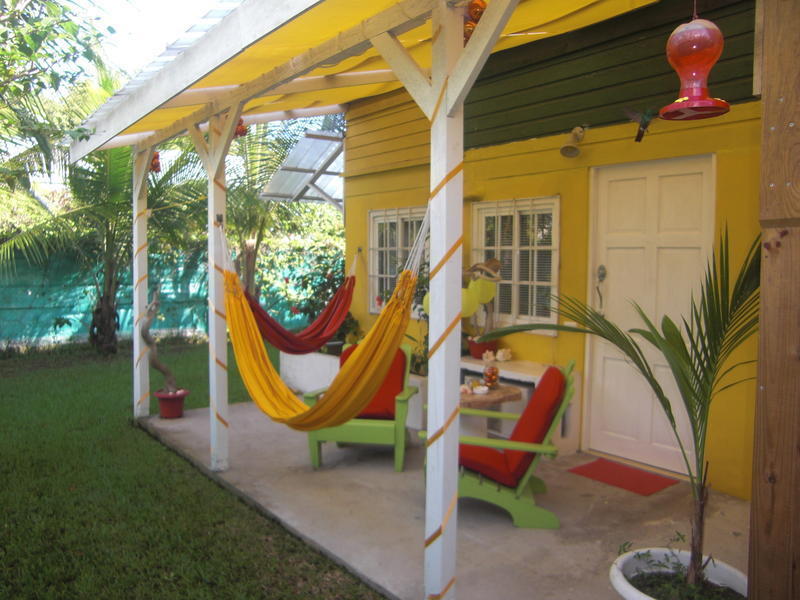 Services & facilities
Air Conditioning

Recreation

Bicycle hire
Book exchange
Cable tv

Wi-Fi/internet access

Free internet access
Free Wi-Fi
Internet access

Housekeeping

Linen included
Towels included

Luggage storage

Outdoor space
Description provided by property
Welcome to The Palmyra - a private residence that offers you a UNIQUE hotel alternative!The Palmyra is ideal for couples, a group of friends or a family who wants to have the comfort of home in a foreign country, a perfect base for exploring Bocas del Toro while enjoying a quiet place to write, read and relax. We offer you a small size un-crowded atmosphere and privacy with all the amenities you need to have a great stay in Bocas.The place has a great location, close to everything in the small town of Bocas del Toro. If you don't like to walk, take the bicycle. Each of our guests can use a bicycle free of charge 24 hours a day.The Palmyra is a 3 bedroom/ 3 bathroom apartment with a full kitchen that you can rent per room. Whether you rent only one room or the entire apartment, at the Palmyra you will find a friendly, nice and private atmosphere.But it is not the same as staying in a hotel! In an apartment you make your own beds, there is neither a reception nor are there any employees around, you make your own plans for hikes or daytrips and you make your own reservations.There is no reception! You will find your way around! You will find our special Bocas Guide in a leaf-let in your room to provide you with information and useful hints and if you need more information you can reach us in the mornings and in the evenings and we will be happy to help and assist you.You get keys for the gate, the entrance and to your room from us and you can come and go like you want- no lock-out, no curfew. This apartment offers everything you need to feel at home: We offer one room with a queen size bed ( Double deluxe ) and each of our other two rooms are equipped with two single beds ( Twin deluxe ). Each room has its own private ensuite bathroom.Each of our rooms is styled and decorated in the warm colors of the Caribbean Tropics to match the island we live on. The interior is furnished with our unique Palmyra designs, largely made of local hardwood and entirely handmade by local workman. You will enjoy comfortable beds with high quality orthopedic mattresses and 100% pure cotton sheets.Each of our rooms is provided with a 32-inch flat screen television with cable TV. We receive local and international channels like CINEMAX, CNN (English and Spanish), TNT, HISTORY CHANNEL, SPACE, DISNEY etc.The Palmyra offers free wireless internet to its rooms and common areas for our guests that have laptops or PDA's.Each of our rooms is equipped with a super efficient and very silent air-conditioning. With the remote control you can choose your perfect temperature.Each of our rooms has its own private terrace with access to our large garden. The terraces are equipped with relaxing chairs and hammocks. Our garden is full of birds. Experience how relaxing it can be watching them from your hammock, especially the hummingbirds.We don't serve breakfast, but can recommend a morning stroll to some nice places in town. Our guests care for themselves and cater for themselves. This is why you will find a fully equipped kitchen in the apartment. You can have a 5 course meal, if you cook it yourself and you can enjoy unforgettable evenings in the well furnished dining area or have a great BBQ night - then you have to clean up! You don't like cooking all the time? Our favourite restaurants are presented in the leaf - let in your Room.There is no service, you have to support yourself! If you need your towels and linens changed daily we are not the right place for you. We offer housekeeping on request every 3 days for an additional fee. This fee will be donated by us to local environmental projects. For longer stays free housekeeping is included every 7 days.You will experience Bocas in a different way - we want you to have the best time in Bocas!Relax and enjoy!We appreciate your visit!Lo agradecemos su visita!Wir freuen uns auf Euren Besuch!All of our Facilities are Free of Charge:Bicycles Wireless Internet if you have a laptop, Blackberry etc.Cable TV GuestkitchenOutdoor Terraced AreaBig private GardenLinen and Bathroom Towels Board GamesBook ExchangeBBQ - on requestBeach Towels - on request (Deposit $ 10/ towel)Iron/Ironing Board - on requestHairdryer - on requestLuggage Storage - on requestPet friendly! Service:Laundry (washing and drying - per load/ $ 5) - on requestIMPORTANT - PLEASE NOTE:MINIMUM AGE REQUIREMENT: ALL GUESTS MUST BE AT LEAST 25 YEARS OLD OR PART OF A FAMILY GROUP BOOKING.Any bookings made by or made for persons under 25 will be refused at check-in.Sorry, but the Palmyra is not suitable for children under 12.Single or double occupancy only! Extra beds are not available.Your pet is welcome but by prior arrangement only.PLEASE NOTE:When you make a reservation it is a legal contract between The Palmyra and yourself, NOT WRI, which is only acting as a booking agent for us. Please note that our cancellation policy is part of this contract.If you confirm a booking with us, we will assume you have read and accepted our terms and conditions as set out below.THE PALMYRA - PROPERTY TERMS & CONDITIONSPayment in CASH ON ARRIVAL.KEY - DEPOSIT: $ 40/ per Room WE DO NOT ACCEPT CREDIT CARDS.Check- in/out: Check-in is available from 14:00 (02.00 PM) till 19:00 (07.00 PM) on the day of arrival. Early and late arrivals by prior arrangement only.Check-out is not later than 11:00 (11.00 AM) on the day of departure.IMPORTANTIf you cannot be at The Palmyra at about the estimated arrival time you have given us on the booking enquiry, please contact us and give us your new arrival time. Please keep in mind that The Palmyra is an apartment not a hotel and there is no reception.Luggage Storage:If you plan to arrive before 02.00 PM luggage storage can be arranged. Please note that the storage area is not locked and not secured and storage will be entirely at your own risk. After you stored your luggage you will have to leave the property until check-in time at 02.00 PM, as we protect the privacy of our guests.On the day of your departure you are welcome to leave your luggage with us but you will have to leave the property not later than 11.00 AM (Check-out time) since we are a small place and we want to make certain that newly arriving guests have the privacy and comfort they deserve.Please keep in mind that the Palmyra is an apartment and not a hotel and we do not have a waiting lounge. Please plan your arrival and departure accordingly.Cancellation Policy:1.Cancellations must be made by email and be received by us no later than noon, three days before the arrival date. If cancellation is received by us within this timescale no payment will be due. If cancellation is not received by us within this timescale the full amount of the booking will be payable. 2. If a booking includes a special date, cancellations must be made by email and received by us no later than noon, ten days before the arrival date. If cancellation is received by us within this timescale no payment will be due. If cancellation is not received by us within this timescale the full amount of the booking will be payable.3. Group bookings 2 rooms or the entire apartment Cancellation Policy 14 days! Group bookings 2 rooms or the entire apartment including a special date Cancellation Policy 28 days!4. Special dates are: Christmas, New Year, Easter and Carnival. 5. Early departure or failure to check in (no show) will result in the full amount of the booking becoming payable.6. If there is any delay in your itinerary- please contact us- as we keep the room for you only for two hours from your stated time of arrival. After which, you will be considered no show, your reservation will be cancelled and the full amount of the booking will be payable. 7. Guests that do not fulfill our minimum age requirement of 25 years at check- in will be cancelled and the full amount of the booking will be payable.8. We strongly advise guests to arrange travel insurance with cancellation cover.9. We regret to inform you that travel conditions/illnesses fall under the same cancellation policy as above so no refunds will be given under any circumstance of cancelling after the cancellation policy has passed.10. We reserve the right to cancel a booking at any time before the date on which your stay begins. We would only do so for unexpected circumstances beyond our control.11. We reserve the right to terminate your booking immediately without being liable for any refund or compensation if you engage in unacceptable behavior that causes a disturbance or nuisance to other guests or if you ignore and violate our house rules.12. In case of cancellation or no show, booking fees paid to WRI are non refundable.Housekeeping Services: Rentals longer than 7 days include weekly Housekeeping (Cleaning and fresh Linens & Towels). Rentals less than 7 days do not have any Housekeeping service included.We offer Housekeeping upon request every 3 days:Full Housekeeping Service (Cleaning and fresh Linens & Towels) at a rate of $ 25 per call out/ per room. If you just want to get fresh Towels we will charge you $ 5 per call out/ per room and for fresh Linens $ 10 per call out/ per room.Occupancy: Minimum age requirement: All Guests MUST be at least 25 years old or part of a family group booking. Sorry, but we are not suitable for children under 12.Our rooms are suitable for single or double occupancy only. Extra beds are not available.Only guests who have checked in with us will be allowed into The Palmyra. House Rules:To ensure the comfort of all guests we have established some common courtesy rules. Please read our House Rules on arrival to avoid any misunderstandings (these can be sent to you via e-mail upon request).Staying with us infers acceptance of our Property Conditions and our House Rules.Smoking Policy:Smoking is not permitted inside the apartment and in common areas. Smoking is allowed on your private terrace and in the garden, other guests permitting.Pets:Your pet is welcome but by prior arrangement only.Bicycles:Our bicycles are free of charge and for our guests only.Peace and Quiet: To maintain a relaxing atmosphere no loud music is allowed anywhere on the property at any time. In order to respect other guests you have to keep your noise level to a minimum from 22:00 (10.00 PM) to 09:00 (09.00 AM).Liability: The Palmyra does not accept any liability for injury to you or members of your party whilst on our premises. Persons residing do so entirely at their own risk.We do not accept any responsibility or any liability for any loss or damage to any items brought from you into The Palmyra. You carry your personal belongings at your own risk. The Palmyra has no guard or safe-keeping duty.You are responsible and liable for any breakages or damages which you cause to the accommodation or its contents.
Interesting places nearby
Habla Ya

This Spanish school, also with an outlet in Boquete, has a great reputation. They offer a special Spanish for travelers course. There's...

Ixa's Bike World

Repairs and rents a wide selection of bicycles.

Bocas Yoga

Geared at both locals and travelers, this Hatha yoga studio run by the effervescent Laura makes a good break from the party scene....

Mondo Taitú Bar

You're guaranteed a good time at the Mondo Taitú Bar. On Tuesday and Friday, the party-loving owners entertain their guests with a...

Posada Los Delfines

The cheapest breakfast on the island is yours to be had at this hotel restaurant, which is a popular spot for locals in the know. Order...
Image disclaimer: It is the responsibility of the hotel chain and/or the individual property to ensure the accuracy of the photos displayed. Lonely Planet is not responsible for any inaccuracies in the photos.